All Award expenditures must be allocable (provide a benefit) to the Award. Equipment purchased at the end of an Award is a high risk practice as it can be difficult to prove how the equipment benefitted the Award with such a limited amount of time remaining. Also, end-of-Award purchases can be an indication of weak Internal Controls as it can be perceived that the purchase was made to utilize a balance of funds on an Award. End of Award Equipment purchases on Federal Awards, in particular, are subject to audit review.
An eLearning on timing of expenditures can be found here.
Timing of Expenditures and Benefit to Award
To mitigate UW's risk, a quarterly Data Analytics report on Equipment purchases on Sponsored Awards has been created by PAFC and is distributed to the Dean's offices for their review . Reports at the School/College and Department level are available from either the Dean's Office or PAFC. For access to the reports contact either the Dean Administrator or PAFC at gcafco@uw.edu.
Campus is encouraged to review these reports to identify trends, Internal Control weaknesses, training opportunities, and any other areas of concern. Pivot tables have been created on this report that identify equipment purchases both at the end of the award and after the end date of the award. Individual transaction data is provided to assist in this review.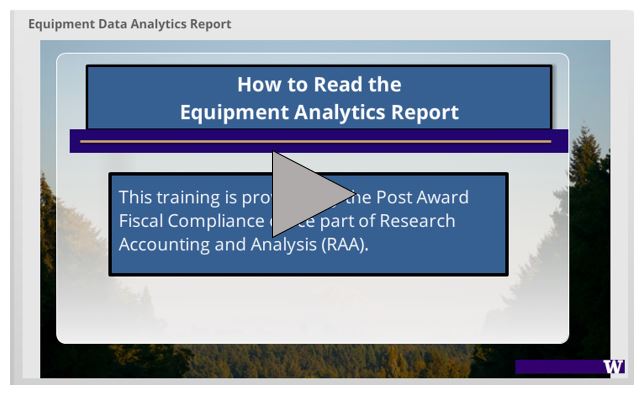 How to Read the Equipment Data Analytics Spreadsheet ELearning (Approximately 15 minutes)
Data Analytics Report Filter & Indicators
While all equipment purchased at Award end are considered to be of some risk, the equipment Data Analytics report filters transactions to identify those that may be of particularly high risk.
This report shows all transactions posted to Object Code "06" (equipment) on Federal Awards (prime recipient or pass through). Flags have been added to indicate if the expense was posted within the last 90 days of the Award or after the end date of the Award.
Indicators Applied:
The following indicators are added to the report to highlight those high risk transactions. All calculations use the Total Period End date of the Award, rather than the Budget Period End date, as the risk factor is higher for purchases at the Total Period End date of the Award.
90 Days or Less: Equipment purchases posted 90 days or less from Total Period End Date. It can be difficult to prove how these equipment purchases benefitted the Award with such a limited amount of time remaining.
Post Award: Equipment purchases posted after the Total Period End Date. While an expense can be posted after the End Date, such a late posting is subject to particular scrutiny. In addition, as most final financial reports/invoices are due to Federal sponsors 90 days after the end date of an Award, these expenses (and credits, applicable) should be reviewed to ensure that they were included in the final financial report/invoice. These transactions are also included in the "90 Days or Less" report but have been provided their own indicator given the higher risk.
Fabrication: Many of the transactions listed in this report are journal vouchers (JVs) to move expenses onto Fabrication sub-budgets. Many different categories of costs go into creating the equipment and in order to represent the true cost of the asset, these costs need to be moved to a Fabrication sub-budget. This allows for the full cost of the asset to be depreciated over its useful life and the costs to be excluded from indirect cost. Because Fabrication JV's use Object Code "06" they are included in this report. While Fabrication JVs do not represent an end of award equipment purchase, these transactions have been left on this report so that a complete picture of all "06" transactions is available to the departments. However, a flag has been set up so that Fabrication JVs can be identified: they are identified either through the "0549" budget code or if the word "fabrication" is in the transaction description.
Equipment Data Analytics Report (Spreadsheet) Information
Click on an icon below:
Equipment Data Tab Equipment Report Columns
Equipment 90 Days or Less Tab Equipment Post Award Tab