Join our Listserv!  Contact Us  The ROT Squad
Lest old acquaintance be forgot: resources published in 2021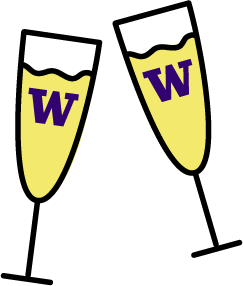 As this year draws to a close, we wanted to provide a refresh on some of the resources published over the past twelve months. Our Fetch the Future initiative shines the spotlight on transforming paper-based workflows to well-managed electronic records, including esignatures, scanning, and the approach of Finance Transformation. Pour yourself a glass of sparkling cider and check out these resources today:  
New Frequently-Asked Questions:
Have any ideas of new resources we should create in 2022? Let us know! We are always looking for new ideas and inspiration.
Curious about going digital? Questions about how to manage your electronic records? Reach out to us any time at recmgt@uw.edu. We're here to help!
Wrap it up, 2021!
Did you know that you only need to retain records on your calendar for 1 year after the end of the calendar year? That means, come the first of the year, you can delete your Outlook calendar from 2020. It's easy, just follow these directions.
Also, a lot of series on our General Records Retention Schedule have a cut-off of "calendar year". That means, come the first of the year, you can delete records that have now reached their legal retention. For example, if a record has a retention of 6 years after the end of the calendar year, you can go ahead and delete any that you have of that type that is from earlier than 2015 (as long as the records are not involved in an audit, litigation, or public records request).

Book a winter consult
If you're a regular reader of this newsletter, you've probably heard about our Fetch the Future – Go Digital initiative. We've been helping offices go digital in anticipation of our February 2022 deadline when we will no longer accept paper records for storage at the University Records Center.
As part of this initiative we've been consulting with individuals and groups on the following topics:
We are available to meet with your office in January or February about one of these in-demand hot topics. You can slot us into a regularly scheduled meeting or just bring a couple coworkers – there's no group too big or too small! Learn some valuable informationas well as useful tips and tricks. Email recmgt@uw.edu to book an appointment now!
FETCH THE FUTURE...GO DIGITAL
Click here to watch the video on this new University-wide initiative.
WE ARE ALWAYS HERE TO HELP
Barbara Benson
Cara Ball
Emily Lemieux
Lynn O'Shea
Sean Whitney