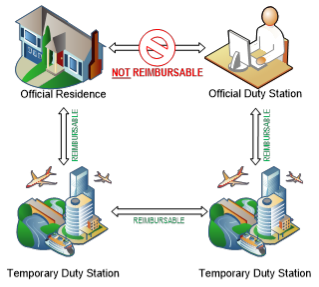 Reimbursable route(s), including non-scheduled workdays:

Home > Temporary duty station
Duty station > Temporary duty station
Temporary duty station > Home
Temporary duty station > Duty station
 
NOT reimbursable, any commute related expenses, including non-scheduled workdays:

Home > Duty station
Duty station > Home
Parking at duty station
 See Car Rental & Personal Auto Liability Guidance Page 
Allowable car rental insurance:
Insurances (Domestic Travel)
This includes the U.S., Puerto Rico, & District of Columbia
Accept Collision Damage Waiver (CDW), decline if on Enterprise/National Contract (it is already provided)
Accept Loss Damage Waiver (LDW), decline if on Enterprise/National Contract (it is already provided)
Decline Liability Insurance
Decline all other types of insurances
See chart for additional information
Insurances (International Travel)
Enterprise/National contract does not apply to international travel
Accept Collision Damage Waiver (CDW)
Accept Loss Damage Waiver (LDW)
Accept Liability Insurance
Decline all other types of insurances
See chart for additional information
Mileage is reimbursable at the applicable mileage rate, which includes the cost of gas and wear/tear:
| | | | | | | | | | | |
| --- | --- | --- | --- | --- | --- | --- | --- | --- | --- | --- |
| Effective | 1.1.20 | 1.1.19    | 1.1.18    | 1.1.17    | 1.1.16    | 1.1.15    | 1.1.14    | 1.1.13    | 1.1.12    | 1.1.11    |
| Per Mile | $0.575  | $0.580 | $0.545 | $ 0.535 | $ 0.540 | $ 0.575 | $ 0.560 | $ 0.565 | $ 0.510 | $ 0.51 |
Documentation:
Required documentation regardless of mileage total, options are:

Mileage from select location, see select mileage log 


Add comment to ER stating which log was referenced and the route

Mileage log


Attach mileage log with correlating odometer readings or Google Map documentation.

Google Map


Attach Google Map to the expense report.

Note:  Address may be hidden if subject to HIPAA, department is responsible for internal documentation.
ARIBA Procedure Note:  If gas instead of mileage is to be reimbursed for the use of a private vehicle, mileage is to be documented and the gas amount must be equal to or less than the calculated mileage amount and entered in the Override Amount field.  Reimburse on a mileage line item with the appropriate documentation.
**Round trip mileage reimbursement to/from the airport is allowable when a third party drives.
Requirements
Car class charged on final agreement can be up to a full-size class. Any class higher than full size requires justification.
ALL drivers on the final rental agreement must be on UW business or the entire amount of the car rental is not reimbursable
Final rental agreement (itemized) is required for reimbursement. See receipts policy.


Name of driver/additional drivers
Car class charged
Pick-up/Drop-off information
Itemized charges
Itemized insurances
Proof of payment

MISC


Gas for rental is reimbursable as separate expense or on final agreement
GPS is reimbursable if required for UW business
Car2Go and Reach Now are considered car rental
**For information related to allowable insurance addons, see auto insurance
Restricted to UW Business Only (not authorized for any personal travel). Note that ALL drivers listed on the final rental agreement must be on UW business for it to be a reimbursable expense.
Reservation can be made directly with Enterprise or National by entering 45WA033 into the account number/contract ID field. It should display WAS UNIV OF WASHINGTON-NASPO when entered correctly. 
Cost compare Privately Owned Vehicle (Mileage) vs Enterprise/National reimbursement using the savings calculator tool. Renting a vehicle on contract most times is more economical then reimbursing mileage. 
Consider enrolling into the  Emerald Club, recognized by both Enterprise and National. Benefits include bypassing the counter, selecting your own car, and e-Receipts.
More information
Questions related to the contract may be directed to Katie Kohanek, 425.917.7558, katie.a.kohanek@ehi.com
Offers short-term vehicle rental for official UW business. UCAR provides vehicles for rent to be driven by the renter. A UW Net ID and UW budget # are required to make reservation. See UW Fleet Services for more information.
Documentation no longer required on expense report (ER). Most economical means of travel is a requirement in the pre-trip approval process, travel approver is responsible in ensuring that personal preference(s) did not increase costs. In the event a transportation method other than airfare is selected due to personal preference, the basis for comparison is flying lowest cost logical coach fare directly to the business location. 
Business class for non-air common carriers can be approved two ways:


Approval from Dean, Vice-Provost, Vice-President, or Chancellor
Criteria from (a) and (b) must be met (see sample approval form):


Less than coach airfare, or is the only mode of travel available
Necessary for business interaction, or to conduct UW business

Any class higher than business class would be restricted to justification and approval from Dean, Vice-Provost, Vice-President, or Chancellor
Car Service: ground transportation in which the traveler is paying for driver to transport them from one location to another. Tips for car service are reimbursable and may be included in the total. Travelers are limited to the service providers standard class. Any upgrades purchased for personal convenience are not reimbursable.
Examples: Taxi, Cab, Uber, Lyft, Limo
Public Transportation: 
Examples: Seattle Metro, Grey Hound, Light Rail, BART in Portland, Subway in NY
Public Transportation Passes:


Any amount related to personal is not reimbursable.
If the pass includes personal and business use, it must be prorated to UW business only. If it cannot be prorated then the whole amount is not reimbursable.
Bicycle/Scooter: eligible for reimbursement when they are a rental (Ex: Lime bike/scooter, Uber 'JUMP' electric bikes/scooters). There is no mileage reimbursement for a personally owned bicycle/scooter or similar. 
Shuttle: ground transportation shuttle services. Typically seen between airport and hotel. Consider Shuttle Express for pick up and drop off at UW locations.
Parking: Official Duty Station parking is not reimbursable. Discounts available at Wally Park and MasterPark for SeaTac parking, must show Husky Card to identify as a UW traveler. 
Tolls: 
Mandatory/Unavoidable toll charges are reimbursable

Avoidable tolls are not reimbursable


Example: I 405 express lane tolls

Any tolls related to traveler's commute are not reimbursable
Toll passes that can be used for personal use are not reimbursable

Ferry: 
Ferry charges related to traveler's commute are not reimbursable
If traveler drives personal vehicle onto ferry and is claiming mileage, any distance traveled on over water should be deducted from mileage total. Traveler is reimbursed at the receipt amount for the ferry expense.
Chartered aircraft: includes fixed wing and helicopters. Contact Procurement for guidance.
Personal boat: Reimbursed at the receipt cost for gas and moorage. No mileage rate available for personal boating.
Personal motorcycle: subject to mileage policy, but with different mileage rate
Mileage is reimbursed at $0.55 (effective Jan 1, 2019)
Personal aircraft: contact UW Procurement for guidance. Must be authorized by Washington State Department of Transportation Aeronautics Commission and UW Procurement.
Mileage is reimbursed at $1.26 (effective Jan 1, 2019) / nautical mile based on NOAA Airways Charts
Nautical miles should be converted into statute miles when submitting expense report