Email notifications (in approval flow order) are received by the following:
PREPARER
when:
ER (expense report) is submitted, edited, withdrawn, denied or approved
receipts have not been received by Travel Office within seven days after final approval

subsequent notifications are sent every 24 hours until receipts are received

signatures must be obtained for Non-UW travelers
COMPLIANCE, FUNDING, AND AD HOC APPROVERS
when:
ER is submitted, edited, withdrawn, denied, or approved 
WATCHER
when:
ER is assigned for review
TRAVELER
when:
preparer has submitted ER for traveler's review (watcher role)
ER have been approved and requires traveler's final approval
Notification Preferences
Select Preferences from the T&E Dashboard and Change email notification preferences to view emails in HTML format and to change the frequency of notifications.

Select Travel Authorization in the Edit Preference for field. Select notification method and frequency accordingly.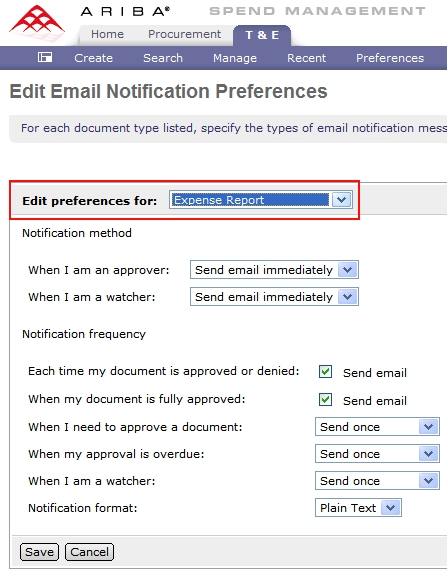 TIP:
To view Ariba email messages in HTML format using Pine, enter ' > ' twice.