UW employees who do not have an UW individual corporate travel card or are traveling to remote locations where a charge card may not be accepted may request a per diem advance before the trip to defray necessary reimbursable travel costs.  An advance may not be used to purchase:
 airfare
 expenses in connection with the use of a personal car
 expenses for others
Requirements
requestor must be a UW employee with no outstanding advance(s)
must be active UW employee in Workday (UW payroll system) more than 10 business days after trip.
stipend, student, temp and hourly employees will require 64 discretionary budget.
amount of advance is based on allowable per diem rates of location and period of travel (cannot exceed 90 days)
must occur before trip (however do not submit more than 30 days before trip)
request must be at least $300
Procedure
create an Expense Report  (ER) for each per diem advance request in eTravel using allowable per diem rates for period/location of travel. Must be submitted and approved at least 3-5 business days before trip occurs.
request will be reviewed approximatley 30 days prior to trip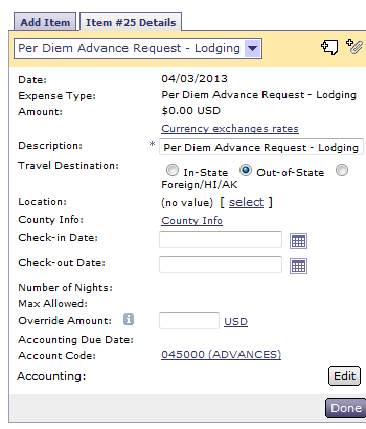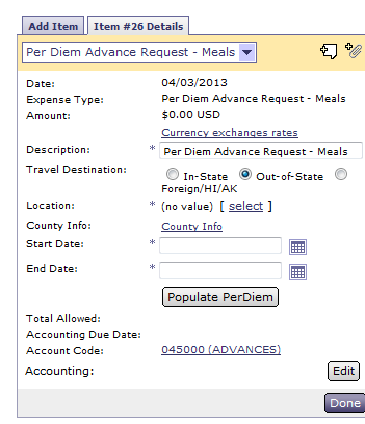 * For full amount choose both per diem advance requested meals and per diem advance requested lodging.
Default on Repayment
Unpaid amount shall become immediately due and payable with interest of 10% annum from date of default until paid.  See IRS regulations.
*pick up is not available for travel checks