Configure Tabs
Mass Edit
Summary
Comments/Attachments
Configure Tabs
Select Configure Tabs to modify how tabs and properties are viewed. Select the - or X to delete or minimize specific boxes from the dashboard.

Mass Edit
place cursor anywhere on item row to select
line items will be highlighted upon selection

Summary
Click on '+' symbol to complete the trip information.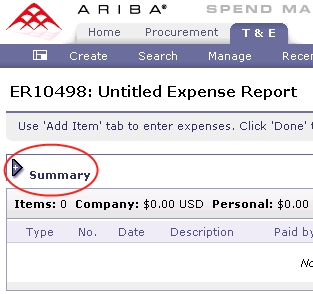 Click on Continue to verify travel profile information for UW faculty, staff or student employees OR complete address fields for Non-UW travelers.

Click Go To Items to add expense items. 
Comments and Attachments
It's recommended to enter all comments and attachments at the Entire Expense Report level on Summary page since these are immediately visible to approvers.