---

"When you donate, you're empowering the next generation of students who are going to change the world."
Across the University of Washington, students are thriving thanks to the generosity of endowment donors. And the impact of that generosity doesn't end after graduation — just ask Ashley Walls, '16.
Ashley grew up in Redmond, Washington. She always knew she wanted to go to the UW, even if the path wouldn't be easy.
Her parents both served in the Air Force before starting a yacht-detailing company. It was fulfilling work, but Ashley and
her twin sister, Kelly, didn't grow up with the financial security of friends whose parents worked for neighboring tech
giant Microsoft.
So when it came time for the sisters to attend college, the family faced a dilemma: They couldn't afford two tuition bills at once. Kelly could cover her education at Montana State University through ROTC, but Ashley planned to attend community college as a cost-saving measure before transferring to the UW.
Then she got her UW financial aid package. "I saw that I'd received scholarships and thought, 'OK, this is feasible — I can do this now,'" Ashley says.
Her scholarships included endowed support from the Educational Opportunities Program (EOP), part of the UW's Office of Minority Affairs & Diversity.
"Education is one of the best ways to address issues of social justice, and the EOP is an extraordinary steward of this mission," says Barbara Lord MacLean, who established an EOP endowment and serves as board president for the Friends of the Educational Opportunity Program.
With the support of Barbara and other EOP board members, Ashley began to aim for her dream career: writing. She also joined student organizations that would enhance her Husky Experience, including the Society of Professional Journalists and the UW student newspaper, The Daily. In honor of her hard work, Ashley was named to the inaugural class of the Husky 100, which recognizes students who make the most of their time at the UW.
Empowering the next generation
Ashley graduated with honors in 2016. And now her path has come full circle, leading her back to Redmond as a writer
at Microsoft.
She credits endowed scholarships — and the donors who support them — for her bright career, which made her decision to become a UW donor an easy one.
"I think it's important to give back to a community that saw your potential and lifted you up," Ashley says. "There are so many students who want to go to the UW but aren't sure how to pay for it. By giving, I'm telling them, 'You can do this. Go pursue your dreams.'"
Ashley's success story has many counterparts: Endowment donors open doors for all kinds of motivated students, from undergraduate researchers to medical students to Ph.D. candidates.
"When you donate," says Ashley, "you're empowering the next generation of students who are going to change the world."
---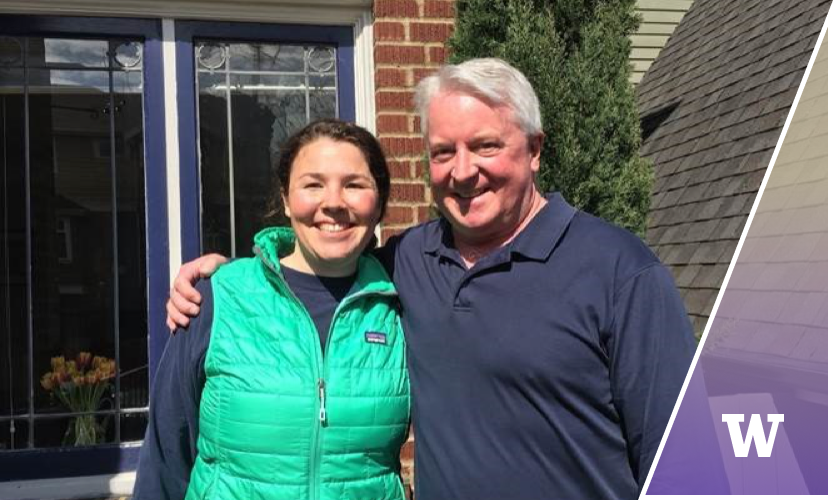 TRAUMA, RECOVERY AND GRATITUDE
Jamie Hunter almost died when she was just a teenager. But Jamie Hunter was incredibly lucky. When she was severely injured in a climbing accident on Mt. Adams in 2003, bystanders — including several physician climbers who had trained at Harborview Medical Center — kept her alive until she could be airlifted to a nearby hospital for emergency surgery. Then, when it came time to reconstruct the major wound in her side and to receive world-class care and rehabilitation therapy, she came to Harborview in Seattle. Her parents, John and Wendy Hunter, were enormously grateful to Nicholas B. Vedder, M.D., the UW Medicine surgeon and faculty member who helped their daughter, and they, along with other generous donors, established the Jamie A. Hunter Endowed Professorship in Reconstructive Plastic Surgery. And in 2018, Dr. Vedder and his wife Susan Heckbert, M.D., Ph.D. elevated the professorship to an endowed chair, in recognition of the vital role that reconstructive plastic surgery plays in helping patients rebuild their lives. Drs. Vedder and Heckbert are longtime supporters of UW Medicine and Public Health. Most recently, they became UW Laureates in recognition for their generous support. Drs. Vedder and Heckbert believe in the power of philanthropy and endowments at the University, for them "the tremendously supportive academic environment of the UW has allowed us both to build programs and our careers. We wanted to give back to the UW in a way that will allow others who follow us to do the same."
---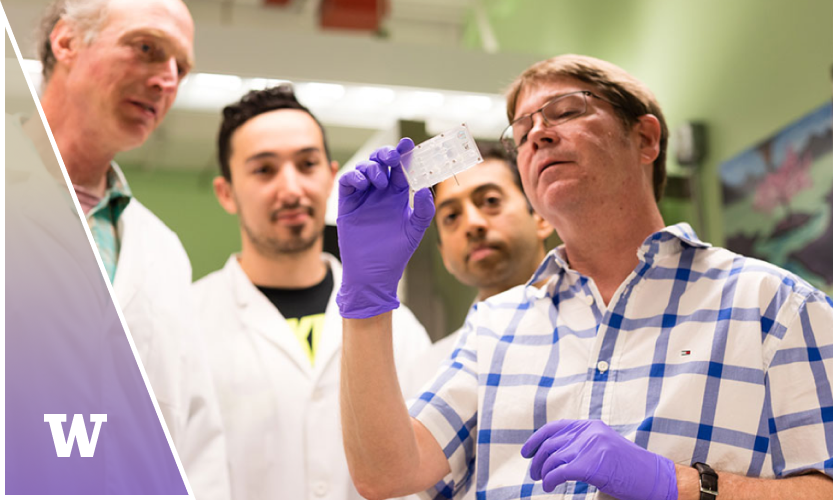 PHARMACEUTICAL SCIENCE GOES TO SPACE
In early 2019, 24 microfluidic chips, about the size of credit cards, will be transported to the International Space Station. The project, dubbed kidney-on-a-chip, is helping researchers at the School of Pharmacy and the Kidney Research Institute, a collaborative effort between UW Medicine and Northwest Kidney Centers, "learn more about how kidney conditions develop, which may lead to breakthroughs in treatment and prevention," says Ed Kelly, associate professor of pharmaceutics. This life-changing science is possible in large part because of donors who invests in graduate student training and startup research projects such as kidney-on-a-chip.
---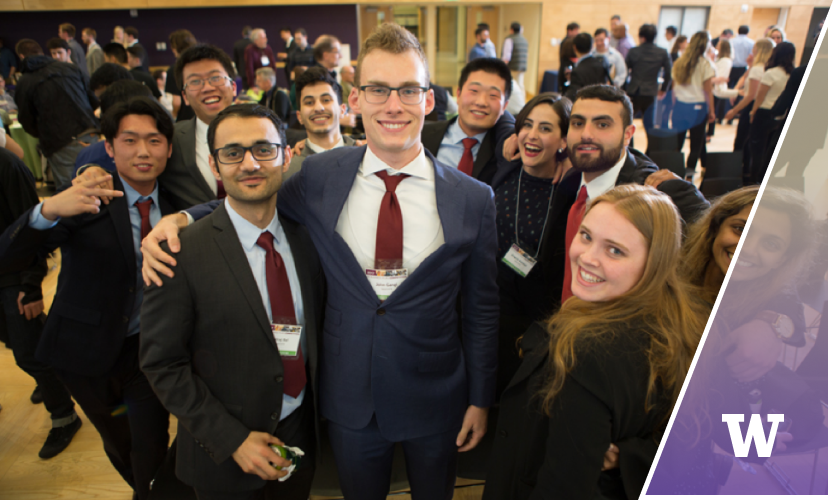 START-UP SUCCESS POWERED BY DONORS
When the Foster School's Buerk Center conceived an idea for spreading entrepreneurship more broadly, it faced a common start-up challenge: capital. Enter Leonard Lavin. The Chicago native attended the UW on a basketball scholarship before joining the navy during WWII. He later started a company by selling from the trunk of his car. His determination and charm combined to assemble Alberto-Culver, a multibillion dollar enterprise offering everything from kitchen seasonings to beauty supplies. Never forgetting the long and often bumpy road to success, Leonard jumped at the chance to encourage today's Huskies to follow their own startup dreams. Today, the Leonard and Bernice Lavin Entrepreneurial Action Program Endowed Fund is helping over 100 students bond on the entrepreneurial fast track.
---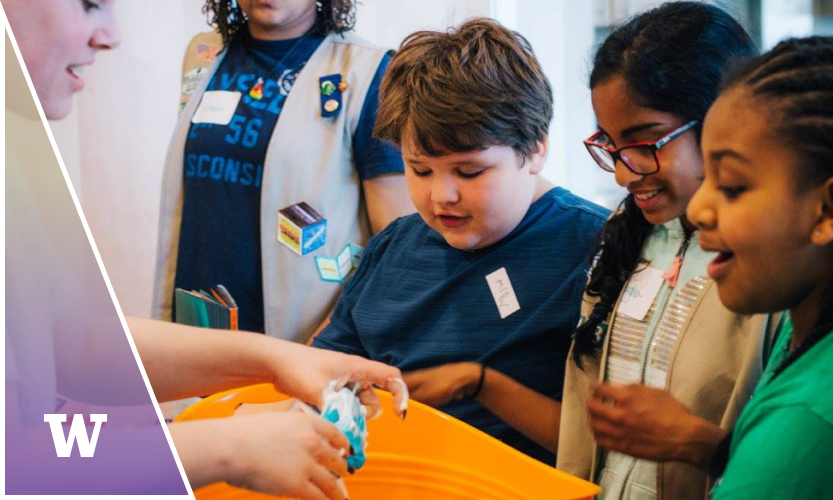 MAKING BOOKS PART OF THE FUN
Supported by the Beverly Cleary Endowed Professorship in Children and Youth Services, Information School Professor Michelle Martin wasted no time in establishing Camp Read-a-Rama in the Seattle area. Camp Read-a-Rama partners with churches, libraries and community centers that have large populations of low-income children, who often suffer significant academic slide during summer months. The goal: To make summer reading engaging and fun, and to help establish a national model for full-immersion literacy programming.