The Federal government requires charges to Federal awards for salaries and wages must be based on records that accurately reflect the work performed.  These "records" must
Be supported by a system of internal controls providing reasonable assurance that the charges are accurate, allowable and properly allocated
Reasonably reflect the total activity for which the University compensates the employee
Include both Federally assisted and all other compensated activities
Support the distribution of the employees' salaries among specific activities
For the UW faculty this is accomplished through the Faculty Effort Certification (FEC) reports. These reports provide the supporting documentation for salaries charged to sponsored projects. Without the FEC reports, the salaries are considered unsupported and therefore, unallowable.
Faculty are defined as those individuals with a Job Profile in range 10001-10147 or 10151-10199 or 21728 - 21730.
Faculty effort is defined as the compensated time faculty members spend on University activities including research, instruction, administration, service and clinical activity.
Faculty Effort Certification is a process the University of Washington uses to document the time spent on University activities. As required by federal guidelines, individual activities are displayed as a percentage of total activity.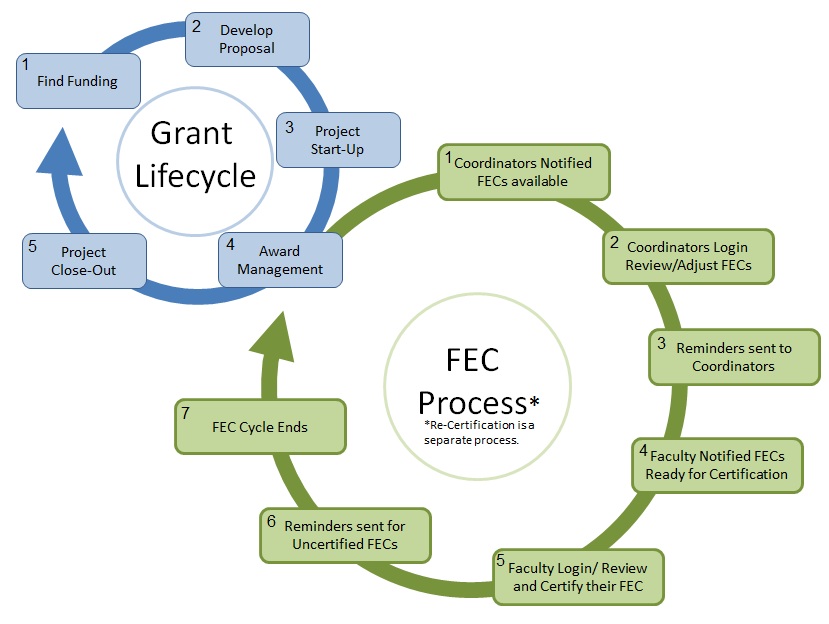 Institutional base salary is the annual compensation paid by the University of Washington for an employee's appointment, whether that individual's time is spent on research, instruction, administration, service or clinical activity. Institutional base salary excludes any income that an individual is permitted to earn outside of duties for the University of Washington.
IBS should be used during all phases of the grant or contract life cycle including:
Preparing a proposal
Charging a grant
Reporting to a sponsor
Certifying effort
The following identifies the salary sources and components considered part of the UW IBS:
Salary Sources
State
Grants and Contracts
Gifts and Endowments
Other UW funds including local funds and departmental clinical salary paid through the UW payroll system
Clinical Practice Plan salary paid by UW Physicians (UWP) and Children's University Medical Group (CUMG)
Salary Components
| | | | |
| --- | --- | --- | --- |
| IBS Salary Component | Earn type will show on FECs for pay periods processed through HEPPS? | Earn type will show on FECs for pay periods processed through Workday? | Notes |
| Regular Salary (REG) | Yes | Yes |   |
| Summer Salary (SUM) | Yes | No | SUM earn type has been deprecated; 9 month Academic faculty who work summer quarter will be paid "REG" |
| Paid Professional Leave (PLP) | Yes | No | Leave types will be visible in Workday but will display in downstream systems as "REG" |
| Salary for Retired Faculty (TFA) | Yes | No | TFA earn type has been deprecated; retirees will be paid "REG" |
| Administrative Supplements (ADS) | Yes | Yes |   |
| Endowed Supplements (ENS) | Yes | Yes |   |
Additional detailed information on Components of IBS
Harborview Medical Center (Harborview) is operated and managed by the UW. Salary support funded by Harborview is considered part of the UW IBS, and time spent at Harborview is included in the faculty work week for effort reporting.
Similarly, salary support funded by UW Medical Center (UWMC) or Seattle Care Alliance (SCCA) is considered part of the UW IBS, and time spent at UWMC or SCCA is included in the faculty work week for effort reporting.
A faculty work week is composed of the average number of hours a faculty member normally works during a week. Hours are to be averaged over the effort reporting period. For many faculty members, this number will vary from one week to another.
Example: if, within a six month cycle, a faculty member worked thirteen 60 hour weeks and thirteen 40 hour weeks, his/her average work week would be 50 hours. Hours are averaged over the six month effort reporting cycle.
Other Examples:
Faculty A: Commits 10% effort in a grant proposal and works 40 hour weeks on average
10% * 40 = 4 hours (average) per week
Faculty B: Commits 10% effort in a grant proposal and works 50 hour weeks on average
10% * 50 = 5 hours (average) per week
Faculty C: Commits 10% effort in a grant proposal and works 60 hour weeks on average
10% * 60 = 6 hours (average) per week
It is not required that faculty keep track of hours on a daily or even weekly basis. Faculty are expected to maintain a good sense/estimate of what they do on an average per week over the FEC reporting period to be able to provide a reasonably accurate breakdown on the FEC report. This allows them to be able to certify in good faith.
"Uniform Administrative Requirements, Cost Principles, and Audit Requirements for Federal Awards" (Uniform Guidance) Title 2 CFR Chapter II, Part 200
recognizes that effort is an estimate by stating:
It is recognized that teaching, research, service, and administration are often inextricably intermingled in an academic setting. When recording salaries and wages charged to Federal awards for IHEs [Institutions of Higher Education], a precise assessment of factors that contribute to costs is therefore not always feasible, nor is it expected.
Separated employees who no longer have a UW NetID will not have access to eFECS. In these cases, it is expected that another responsible official (see above) who has suitable means of verification that the work was performed, will certify on their behalf. Some faculty retain a UW NetID for a time after separation and will be able to log in to eFECS and certify their FEC.
When a faculty member separates from the University and no longer has access, the department should send him/her a copy of the FEC to review.
How is Effort Classified?
Federal guidelines require that universities must "encompass both federally assisted and all other activities compensated by the non-Federal entity on an integrated basis".  eFECS is designed, therefore, to capture both sponsored projects and other activities performed by faculty.
For effort reporting, activities are classified as either sponsored activity (e.g. grants and contracts, cooperative agreements) or other (non-sponsored) activity (e.g.. instruction, service, administration, etc.)
INCLUDED IN SPONSORED AGREEMENTS

Sponsored Researchi

Sponsored research includes all research and development activities that are sponsored by federal and non-federal agencies and organizations. This includes activities involving the training of individuals in research techniques (commonly called research training).

Mentoring Students

Mentoring of students related to sponsored research is appropriately included in effort directly charged to a faculty member's sponsored agreement. The Uniform Guidance states that "Charges to Federal awards may include reasonable amounts for activities contributing and directly related to work under an agreement, such as delivering special lectures about specific aspects of the ongoing activity, writing reports and articles, developing and maintaining protocols (human, animals, etc.), managing substances/chemicals, managing and securing project-specific data, coordinating research subjects, participating in appropriate seminars, consulting with colleagues and graduate students, and attending meetings and conferences."

Data Safety and Monitoring Boards (DSMB)

Included in sponsored activity if participation of a DSMB member is specifically budgeted in the grant. Otherwise effort associated with DSMBs would be part of departmental activities.

Intellectual Property

Effort related to pursuing intellectual property (e.g.. making an invention disclosure, meeting with UW's Tech Transferi Office to discuss an invention disclosure).
INCLUDED IN OTHER ACTIVITIES

Instructioni

The preparation, evaluation and delivery of teaching and training activities of the University, regardless of whether offered on a credit or non-credit basis. It also includes instruction related activities such as thesis advice, mentoring of students and similar activities. Effort related to instruction is included in a faculty member's total effort.

Administration

Effort incurred for services that benefit common or joint University or departmental activities or objectives in dean's/chancellor's offices, academic departments or programs and divisions and organized research units. This includes, but is not limited to serving as dean, chair or center director, department/college committee activities and grant proposal preparation.

Thesis, Search, Admission Committees and Faculty Senate Committees or Activities

Generally these types of activities are considered to be administrative or instructional in nature. To the extent such activities are de minimus in amount, meaning that inclusion in or exclusion from total effort would not, in the aggregate, affect the percentages of effort allocated to sponsored activity, and therefore do not require separate tracking and funding.

Proposali Preparation

During the effort reporting period in which faculty prepare a proposal, the percentage of effort spent on proposal preparation must be funded by University sources other than sponsored projects. An exception to this is when salaries are charged to an NIHi Career Development (K) Awardi.
EXCLUDED FROM EFFORT REPORTING

Personal Activities

Personal activities such as voting, completing effort reports or expense reports are excluded from effort reporting. Activities such as these that are intrinsic to the faculty member's personal daily routine do not need to be separately funded and accounted for in the effort reporting system. These types of activities are not viewed as serving a separate University function or administrative purpose, apart from the research, teaching, clinical or administrative functions in which the faculty member is otherwise engaged.

It should be emphasized, however, that any effort that is associated with activity identifiable in its own right, such as proposal writing or departmental or University administration, even if it involves only the faculty member him/herself, must be reflected in the faculty member's total effort. Moreover, should the 'housekeeping' activities referred to in this guideline become more than de minimus in amount for any reason, it may be necessary to reflect them in an administrative or other category of total effort.

Review Panels or Advisory Activities

Effort related to review panels or other advisory activities for Federal sponsors that include an honorarium, per diem, and/or travel reimbursement by the Federal agency is not included in a faculty member's total effort for effort reporting purposes. The University encourages such participation and does not require prior approval provided that, should the activities involve time away from the University, approval for this travel is sought from and approved by the appropriate supervisor. Such activities should be reported annually on Form UoW 1461, Outside Professional and Public Activities.
 Sponsored and Non-Sponsored Activity
Salary related to sponsored activity must be distributed to individual grant/contract budgets at the percentage of total University activity on those grants or contracts. Non-grant activity, regardless of the number of activities, can be funded by one or many funding sources.
For example, if 20% of University activity is teaching and 20% is administration consisting of involvement in an IRB, proposal writing, and search committees, the 40% can be funded entirely by one or several non-grant budgets.
Non-sponsored activities may be funded by any University budget that does not have other restriction placed on it by the funding source. These may include State and Research Cost Recovery funds. Gifts and endowments are also appropriate sources if the activities are consistent with donor intent.