Notifications from eFECS
Department coordinators are provided 40 days to review the salary and cost share data on the FECs.

Required changes should be made in MyFinancial.desktop (salary transfers), Payroll (retro pay, overpayments) or eFECS Cost Share Module (cost share).
MyFinancial Desktop and the Cost Share Module changes are processed overnight and will appear on the FEC the next business day after the change is posted.
Changes made through Payroll will not appear until payroll is posted for the next pay period.

Notifications are automatically sent to faculty members required to certify and FEC coordinators from efecs@u.washington.edu using the email address contained in the Employee Self Service directory. For appropriate notification, email addresses must be properly established.
Notification Schedule
Notification schedule for current and future FEC cycles can be found on FEC home page.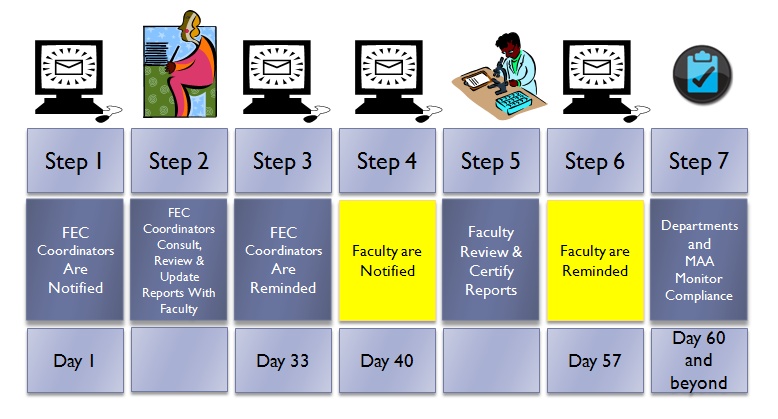 Day 1 - FEC Coordinators are notified:

Employees assigned the FEC Coordinator role in ASTRA receive an email that the FECs are ready for review.
FEC Coordinators review FECs and consult with faculty; update FECs as needed.

Day 33 - FEC Coordinators are reminded:

eFECS emails FEC Coordinators informing them that faculty will receive an automated email in seven days advising them their FEC is ready to be reviewed and certified.
The department should contact faculty individually if changes are still in process and their FEC is not ready to be reviewed and certified.

Day 40 - Faculty are notified:

Faculty who have and FEC this cycle (regardless of whether they already certified) receive an email advising them to log in and certify their FEC.
Faculty review their FEC to ensure it reasonably reflects their effort. Faculty certify the FEC.

If the FEC is not a reasonable reflection of effort performed, faculty work with their FEC Coordinator to resolve any discrepancies.

Day 57 - Faculty received second reminder:

Faculty who have not yet certified receive another email advising them they need to certify their FEC by day 60.

Day 60 - All FECs should be certified:

Certified FECs are due 60 days after release to campus. MAA will monitor compliance. See Follow up Process.