GCCRs for quarter 4/1/2023-6/30/2023 are due on 9/26/2023!
Notice to GCCR Report Generators

We realize that work disruptions and remote work may make it difficult to complete GCCRs timely. GCCR deadlines are based on sponsor expectations, so we are unable to modify the deadlines. However, sponsors will typically understand if a reasonable explanation can be given for a delay, so please document any late GCCRs.
GCCR Schedule
Period
GCCRs
Released
1st Reminder
2nd Reminder
GCCR
Due Date
7/1/22-
9/30/22
10/10/2022
11/28/2022
12/6/2022
12/12/2022
10/1/22-
12/31/22
1/10/2023
2/24/2023
3/7/2023
3/10/2023
1/1/23-
3/31/23
4/10/2023
5/26/2023
6/6/2023
6/9/2023
4/1/23-
6/30/23
7/25/2023
9/12/2023
9/22/2023
9/26/2023
A NEW university wide scanning policy for GCCRs and so paper ink signatures are no longer required but you must meet the scanning requirements given here https://finance.uw.edu/recmgt/scanning-policies and also detailed below in our retention section.
If you do not have a scanner or printer since you are working remotely, please follow these steps.
Download (as PDF) the GCCR documents from https://finance.uw.edu/maa/gccr
Email them to the faculty
Faculty prints out and then sign and scan or take a picture of the documents and emails the photo with the signed form attached.
What is the GCCR?
Grant and Contract Certification Reports (also known as Payroll Certification Reports) are documentation used by the University of Washington to certify the reasonableness of salaries and wages charged to sponsored projects.
The report reflects all UW employees paid on a sponsored budget and their grant and contract compensation with the exception of faculty who certify via the Faculty Effort Certification (FEC) report.
Included on each report is the name of the employee, payroll classification, the percentage of effort or number of hours paid for the month and the dollar amount paid by budget.
Requirement to Certify Work Performed on Grants and Contracts
Verification of the Grant and Contract Certification report is required by the Code of Federal Regulations (CFR), Title 2, Chapter II, section 220 "Cost Principles for Higher Education". (Previously referred to as OMB Circular A-21)
Section J.10.c (2) (c) requires reports to "..reasonably reflect the activities for which employees are compensated by the institution. To confirm that the distribution of activity represents a reasonable estimate of the work performed by the employee during the period, the reports will be signed by the employee, principal investigator, or responsible official(s) using suitable means of verification that the work was performed."
To provide an efficient process of ensuring grant and contract certification reports are completed timely, there will be ongoing oversight of the certification process.
Who Can Certify
It is the responsibility of the PI to certify the report. The PI cannot delegate authority to sign the report for reasons of convenience.
In rare instances, when the PI is unable to certify in a timely manner, the department chair, director (of an organization of departmental level program), division head or dean may certify the GCCR. This verification must be supported by written confirmation from the PI (e.g. in an email or memo) that the work was performed by the individual(s) listed on the report. This documentation should be filed with the GCCR.
Departments are responsible for creating a tracking system to ensure all GCCRs are certified (signed) and dated. Late or unsigned and/or undated reports are an audit concern.
Retention-
As of 6/1/2020, there is a new University Wide Scanning Policy for GCCRs found here and detailed below: https://finance.uw.edu/recmgt/scanning-policies
GCCRs signed in ink must be scanned according to the following requirements as well as those documented on the Records Management webpage: (tap to view) 

Scans must be saved to an accessible location which is regularly backed up such as a departmental network drive, OneDrive, or similar repository.

Departmental copies should be organized in folders by: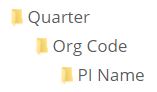 Scans must remain accessible to the department for the full retention period of the record.

Department staff must implement an annual disposition process to identify GCCRs that have passed their retention period.

The list of GCCRs identified for deletion should be reviewed by your office's Records Authority who will provide approval prior to destruction.*
A departmental destruction log should be maintained by the person who deletes the records.
Old Policy through 5/31/2020-Original signed (in ink) GCCRs are required to be filed in the department and retained for the time period specified in the UW retention policy, normally 6 years after the end of the fiscal year. For more information, please visit the Records Management website https://finance.uw.edu/recmgt/recordseries/grant-and-contract-certification-report  
What if I don't meet the requirements given for scanning?
The requirements of scanning are minimal:
Scan at 300dpi or higher

Save as PDF

The location the record is stored is regularly backed up
If your department has the means to meet these requirements, you may transition to scanning these signed documents.  If your department is not able to meet the requirements for scanning, you should continue retaining your ink signed documents as you have been. 
Does this apply to the GCCRs that are due on June 9, 2020? 
Yes, you may begin using this policy immediately.  As a result of Covid 19 and working remotely, many departments have already been collecting scanned copies as was necessary given the stay home stay healthy strategy.  You may transition those documents to your location and begin using the new scanning policy.
What should I do with all the ink signed copies that we have collected over the years? 
You must retain those documents for the 12 years after the last fiscal year (or longer if needed).  If there is a business need, you may consider scanning those older documents to retain per the scanning policy given. 
Can my office use DocuSign or Adobe for electronic signature?
Yes. DocuSign is the University's preferred platform for using electronic signatures since the program can validate the signature.  However, if a department has internal controls in place to authenticate the electronic signature, other platforms are acceptable at this time.

Clicking on this login button will open the CURRENT version of the GCCR report (reporting periods 6/16/2017 - 9/30/2017 and newer).
LEGACY version of the report (reporting periods 4/1/2017 - 6/15/2017 and prior) can be found here
Past Due Dates
| Quarter Start | Quarter End | GCCR Due Date |
| --- | --- | --- |
| 4/1/2021 | 6/30/2021 | 9/26/2021 |
| 1/1/2021 | 3/31/2021 | 6/9/2021 |
| 10/1/2020 | 12/31/2020 | 3/11/2021 |
| 7/1/2020 | 9/30/2020 | 12/10/2020 |
| 4/1/2020 | 6/30/2020 | 9/24/2020 |
| 1/1/2020 | 3/31/2020 | 6/9/2020 |
| 10/1/2019 | 12/31/2019 | 3/16/2020 |
| 7/1/2019 | 9/30/2019 | 12/10/2019 |
| 4/1/2019 | 6/30/2019 | 09/30/2019 |
| 1/1/2019 | 3/31/2019 | 6/11/2019 |
| 10/1/2018 | 12/31/2018 | 3/11/2019 |
| 7/1/2018 | 9/30/2018 | 12/10/2018 |
| 4/1/2018 | 6/30/2018 | 9/25/2018 |
| 1/1/2018 | 3/31/2018 | 6/11/2018 |
| 10/1/2017 | 12/31/2017 | 3/12/2018 |
| 6/16/2017 | 9/30/2017 | 1/10/2018 |
| 4/1/2017 | 6/15/2017 | 9/8/2017 |
| 1/1/2017 | 3/31/2017 | 6/9/2017 |
| 7/1/2016 | 9/30/2016 | 12/9/2016 |
| 4/1/2016 | 6/30/2016 | 9/9/2016 |
| 10/1/2016 | 12/31/2016 | 3/13/2017 |
| 1/1/2016 | 3/31/2016 | 6/9/2016 |
| 10/1/2015 | 12/31/2015 | 3/11/2016 |
| 7/1/2015 | 9/30/2015 | 12/11/2015 |
| 4/1/2015 | 6/30/2015 | 9/8/2015 |
| 1/1/2015 | 3/31/2015 | 6/9/2015 |
| 10/1/2014 | 12/31/2014 | 3/16/2015 |
| 7/1/2014 | 9/30/2014 | 12/10/2014 |
| 4/1/2014 | 6/30/2014 | 9/8/2014 |
| 1/1/2014 | 3/31/2014 | 6/10/2014 |
| 10/1/2013 | 12/31/2013 | 3/11/2014 |
| 7/1/2013 | 9/30/2013 | 12/9/2013 |