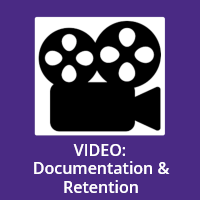 Watch the Video! Click on the video for a brief presentation on Documentation & Retention. Keep in mind that this same video will be used as part of the requirements to complete CORE's Certificate in Research Administration. You may be required to watch the video again in order to obtain the necessary CORE credit.
Purchases must be approved by Sponsors and PIs as required. See PAFC's Approvals web page for more information. Documentation must be retained in accordance with UW's records retention schedule and scanning policy. Each section on this webpage provides information about different components of purchase documentation.
Records retained in UW procurement and financial systems are an important part of purchase documentation. UW procurement systems (e.g., PaymentNet, Ariba) are used to record purchases of items or services. Information entered into these systems is also used to record transactions in UW accounting systems (FAS and MyFD). The following information must be entered into UW systems to document transactions:
Description of items or services

Quantity of items or services

Per unit cost

Budget number

Object code

Transaction date

Transaction amount
An itemized vendor receipt is required for most purchases (see exceptions below) and should include the following information:
Vendor Name

: The name of the vendor must be clearly indicated. It is preferred that all receipts be pre-printed receipts obtained from the vendor.

Description of items or services

: The description and number of items or services purchased must be clear to someone unfamiliar with the purchase. If services are purchased, the service start and end dates should be included.

Amount Paid

: If the purchase includes multiple items, the receipt must itemize each expense. Taxes, shipping, and other costs should be listed separately.

Date

: The date on which the items or services were purchased.
If multiples items or services are purchased, the vendor receipt must include the cost per item. For example:
Purchase of 12 beakers @ $5 each = $60

Translation services @ $50/hour x 5 hours = $250

For a workshop held at a conference center, the vendor receipt must include itemized cost and quantity information for room rentals, catering, and all other items or services
Purchases Greater Than $75
A vendor receipt is required for all purchases over $75. In the rare event that a vendor receipt is misplaced or cannot be obtained, the following options may be exercised:
A duplicate, scanned, or photocopied receipt from the vendor.

An image of the receipt (taken via a Smartphone or other photographic device).

A written description of the items or services purchased, the name of the person or business the items were purchased from, and the date of purchase, signed and dated by the vendor or person from whom the items or services were received.
If none of these options are feasible, the purchase must be charged to a departmental discretionary budget or other unrestricted funding source.
Purchases Less Than or Equal To $75
Every effort should be made to obtain a vendor receipt. However, if the cost of the items or services is $75 or less, the State of Washington has issued a receipt requirement waiver for purchases up to $75. Each department must have a stated policy to accept this waiver, which is issued on a biennium basis. Please see the Procurement website for information on the terms of the current waiver.
NOTE: UW Policy requires receipts for some travel-related expenditures regardless of amount. See the UW Travel website for more information.
All purchases must benefit the Award. If it is not obvious how a purchase benefits an Award, include a written explanation:
Provide a simple explanation; do not use jargon or technical language.
Anyone should be able to look at the complete documentation at any point in time and understand how the purchase benefited the Award.
Explain the math if it's not evident; make it simple and easy to follow.
Information should be in complete and coherent sentences.

Do not create more questions; do not provide more information than necessary.
See PAFC's Cost Allocation web page for information on how to allocate costs across more than one budget.
If supplies are being purchased to replenish stock used on an Award, document how much stock was used by the Award being charged.
The preferred practice, when feasible, is to retain documented proof that the items or services purchased have been received. This is typically accomplished by date and signature on the packing slip from the person who received the items or services. If a packing slip is not available, indication of receipt by date and signature of the person who received the items or services can be on an itemized receipt, request for purchase, invoice, or other supporting documentation.