A Graduate Student Appointment (GSA) provides part-time employment and tuition benefits to students pursuing their graduate degree. Funding can come from sponsored awards or other department resources. Funding from sponsored awards must comply with the sponsor-specific requirements. These guidelines are based on federal sponsor (typically NIH) requirements but are applied to all GSAs (whether on federal or non-federal awards) in order to meet the consistency requirements of the Uniform Guidance. See 2 CFR 200.430 Compensation - Personal services for more information.
A GSA typically covers:
Salary for 50% effort spent on the Award;
Associated fringe benefits; and
The allowable portion of tuition and associated fees.
This funding for salary, associated fringe, and tuition is referred to as Graduate Student Compensation.
Graduate Student salary object codes are in the 01-3X or 01-4X range.
The salary paid to the GSA must be in accordance with the UAW Academic Student Employees (ASEs) union contract and the department's established salary scale.
The effort must be at least 50% in order to be eligible for tuition coverage. The expectation is that the balance of the student's effort (the other 50%) will be for studying. Students may be employed by the UW for their balance of effort, but that employment must be for activities not related to the GSA.
The associated fringe benefit rate for the salary object code must be used. See Financial Reporting's page on fringe benefit load rates for more information.
The object code for tuition is 08-05.
According to 2 CFR 200.466 Scholarships and student aid costs, tuition can only be covered for the same type of tuition and other fees as in the UW tuition waiver. This means:
Tuition payments for GSAs are limited to the portion of tuition and fees that are covered under a UW-supported tuition waiver. For more information on UW tuition waivers, see Executive Order 28 Graduate Student Service Appointments.
The student must also:

Expend 50% effort on the award for five out of the last six pay periods;
Be a UW employee (on UW payroll); and
Be enrolled in at least 10 credits.
NIH will only provide funding for the total of the salary, fringe benefits, and tuition up to the NRSA zero-level stipend amount. The actual amount paid may differ. For example: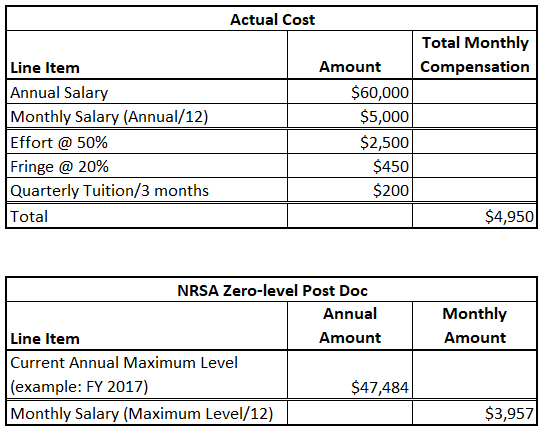 In this example, the amount that would be funded by NIH is $47,484 for the year. If the actual cost is higher, the department would have to cover the balance with either other department funds or, if possible, by rebudgeting the NIH Award.
Note: This zero-level funding limitation can cause confusion between a GSA and a NRSA Training Grant or Fellowship. GSAs are not the same as Training Grants or Fellowships. NIH just uses the NRSA zero-level amount as a benchmark to set what it considers to be a reasonable funding level for GSAs.
As stated above, NIH will only provide funding for the sum of a GSA's salary, fringe benefits, and tuition up to the NRSA zero-level stipend amount.
However, the actual compensation (salary, fringe, and tuition) allowed to be paid for a GSA must be "reasonable," which NIH defines as being no more than compensation (salary, fringe) paid to a first year Post Doc in the same discipline. Thus, the department may rebudget the Award, if funds are available, to cover actual GSA costs up to salary and fringe costs for a first-year Post Doc. NIH will not provide additional funding to cover actual GSA costs.