Organization Codes
Requests for assigned organization code changes should be submitted to one of the following offices:
If the organization code change is transferring the budget to a new department, the request must come from the department currently reflected in the on-line Financial Accounting System (FAS). There are potential Facilities & Administrative (F&A) cost distribution implications that should be considered, specifically the basis for research cost recovery allocations (i.e. distribution to RCR accounts). For organization code changes between departments, it is recommended that appropriate communication take place prior to requesting the organization code change.
Note: If you are requesting org code changes for more than five GCA budgets simultaneously, please download and complete a Bulk Org Code Update form and email it to gcahelp@uw.edu.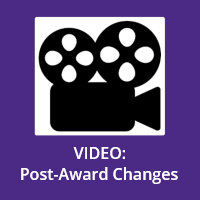 Watch the Video! Click on the video for a brief presentation on Post-Award Changes. Keep in mind that this same video will be used as part of the requirements to complete CORE's Certificate in Research Administration. You may be required to watch the video again in order to obtain the necessary CORE credit.
Box Numbers
Requests for changes to box numbers should be submitted via email to one of the following offices: