GCA requests that departments submit the Pending Transaction Detail form on or before a budget's Final Action Date (FAD) for all cases where expenditures are expected to post after the FAD. To provide complete and correct information enabling GCA to prepare an accurate final report and/or invoice, please follow these instructions carefully.

Fill in completely, including the requestor's name and phone number. If your award is a parent budget and some of the charges are on sub budgets, please enter the parent budget number here and list the sub budget number for each transaction in the detail section below.

Please provide thorough information that fully documents the reasons for the delay in reconciling. Note that the request will be saved in GCA's budget file and therefore could be subject to review if the award is audited.

Enter the total charges that have already posted over the life of the budget. This information can be found in the Financial Information section of the Grant Tracker Budget Information page:

You can also locate this information in MyFinancial.Desktop's Budget Summary Report: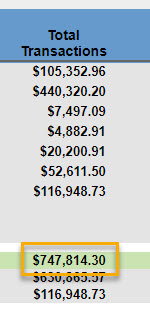 Provide all relevant information for each individual pending charge.

The pending charges and final expenditure totals calculate automatically based on the amounts entered in sections 2 and 3. The expected amount of final invoice/report should be manually entered, as follows:
If a final report is due, the expected amount should match the final expenditure total unless the award is overspent, in which case you should list the full award amount. In the example above, if the total award amount is $760,000, the final report amount will match the $757,690.22 expenditure total. However, if the award is $755,000, enter that amount instead.
If a final invoice is due and the award including pending charges is not overspent, the amount should be the expected final total at closeout less the amount invoiced to date per the Grant Tracker Financial Information section. This may match the pending charges, or it may also include other charges that have already posted in MyFD but have not yet been invoiced.
If a final invoice is due and the award is overspent, the amount should be the total award amount less the amount invoiced to date. GCA cannot invoice beyond the amount provided in the award agreement.