The Grant Tracker Deficit Transfer Tool is available on the far right of the Financial Information section of the Budget Information page for any standalone or parent budget with a deficit balance.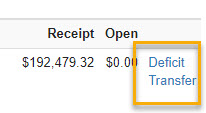 Clicking on the "Deficit Transfer" hyperlink will open a new tab with an interface allowing you to enter a budget number to cover the deficit, along with PCA task, option, and project codes if desired. After entering this information, click Verify to confirm the deficit budget is allowable and to review your selections, then click Submit to request the transfer. You should see the deficit transfer posted to MyFD within 1-2 business days.
If your budget is in deficit and you do NOT see the "Deficit Transfer" link, or if the tool will not accept a deficit coverage budget you believe to be allowable, please contact GCA via Grant Tracker for assistance.