Overview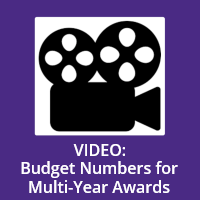 Watch the Video! Click on the video for a brief presentation on Budget Numbers for Multi-Year Awards. Keep in mind that this same video will be used as part of the requirements to complete CORE's Certificate in Research Administration. You may be required to watch the video again in order to obtain the necessary CORE credit.
GCA assigns a budget number and sets up an account in the Financial Accounting System (FAS) upon receipt of a Funding Action (FA) from the Office of Sponsored Programs (OSP).
Our goal is to process all FAs within two business day of receipt. However, departments may see minor delays during very high volume times of the year or when GCA must return an FA to OSP for correction or additional information.
To check the status of a specific FA, please use OSP's Status Checker tool or the Office of Research's MyResearch tool. Note that unless the FA is listed as "in GCA," we haven't yet received it. If you anticipate a late budget setup, e.g.,. due to a delay in receiving the award agreement from the sponsor, please consider requesting an Advance Budget.
---
Budget Setup across UW Systems
When a new budget is set up, it is immediately available in the FIN system. However, it will not be visible in MyFinancial.desktop, in Ariba, or on the Grant Tracker website until the next day.
All budgets must be open and in status 1 two working days prior to the final pay calculation date to accept payroll charges for the relevant pay period.

If your budget is missing a Payroll Unit Code (PUC), please contact the Integrated Service Center at ischelp@uw.edu or by phone at 206-543-8000.

Procard and Central Travel Accounts update their budget lists weekly on Mondays to add the prior week's new or extended budgets.
---
Campus Review Required
When GCA processes an FA, the PI and departmental contacts listed on the associated eGC1 will receive notification by email, with an attached PDF Electronic Funding Action Receipt. This document describes how the budget was set up in FIN. It is imperative that the PI and department review this receipt to confirm it matches their expectations for the award. If any item does not match your understanding of the award agreement, please notify GCA as soon as possible so we can correct the error or clarify the terms of the agreement.
Please carefully review any OSP or GCA Comments on the receipt. These comments often call out departmental responsibilities and requirements for compliance, reporting, or invoicing.
Breakdown of the details listed on an Electronic Funding Action Receipt
For questions about a specific budget's setup, please contact GCA via Grant Tracker and choose the "Budget Setup" topic. For general questions or questions about a budget that hasn't yet been established, please email gcahelp@uw.edu or phone us at 206-616-9995.