Join our Listserv!  Contact Us  The ROT Squad
Working Remotely: No Joke
APRIL 1, 2020
Stay Sane in April
Break the Monotony: Take 20 minutes to reduce your email ROT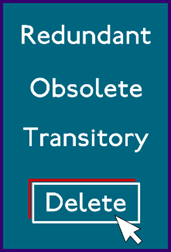 Take a step away from your daily work to refresh your mind and your Inbox. Here are the top 5 Redundant, Obsolete, and Transitory emails you can delete today:
Notifications (ARIBA, Workday, PERMS, OPUS, OWLS)
Newsletters (industry newsletters, listserves, UW Today)
Announcements (e-outages, UWPD Alerts, doughnuts in the break room)
Junk, Deleted items, & Clutter folders—these collectively represent a security, litigation, and focus risk.
Calendar invitations and acceptances, meeting announcements, and meeting agendas
Schedule a Remote ROT Squad Consult
Since you're already disinfecting everything in your path, why not continue your cleaning streak by scheduling your Remote Clean-Up Day with the ROT Squad? Do you have a folder on your shared drive labeled "Megan's Files", but nobody remembers Megan or when she last worked here? You know how to manage paper, now become an expert at managing electronic records as well. Emily and Lynn can show you how to share your screen via a Zoom meeting, and then they can advise on cleaning out emails, shared directories, and old folders on your remote desktop. They offer helpful tips on how to build a workable, stream-lined file plan to carry you into a sparkling clean future.
WE ARE ALWAYS HERE TO HELP
Barbara Benson
Cara Ball
Emily Lemieux
Michael Mooney
Lynn O'Shea