Join our Listserv!  Contact Us  The ROT Squad
Sharpen Your Skills While You Work Remotely
Refresh With Online Classes from RMS
Take a Free, Quick RMS class online
While you're working remotely, take a break from your daily tasks to refresh your knowledge on records management at the UW. Available on our website to anyone with a NetID. Offerings include:
Introduction to Records Management for Senior Leadership (3 min)
Introduction to Records Management (9 min)
Introduction to Vital Records (5 min)
Managing Student Records (7 min)
University Email Best Practices (9 min)
Do you have a suggestion for a class you'd like us to build? Let us know!
Manage Records in Slack, Teams, and Other Platforms
Best Practices for Team Communication Platforms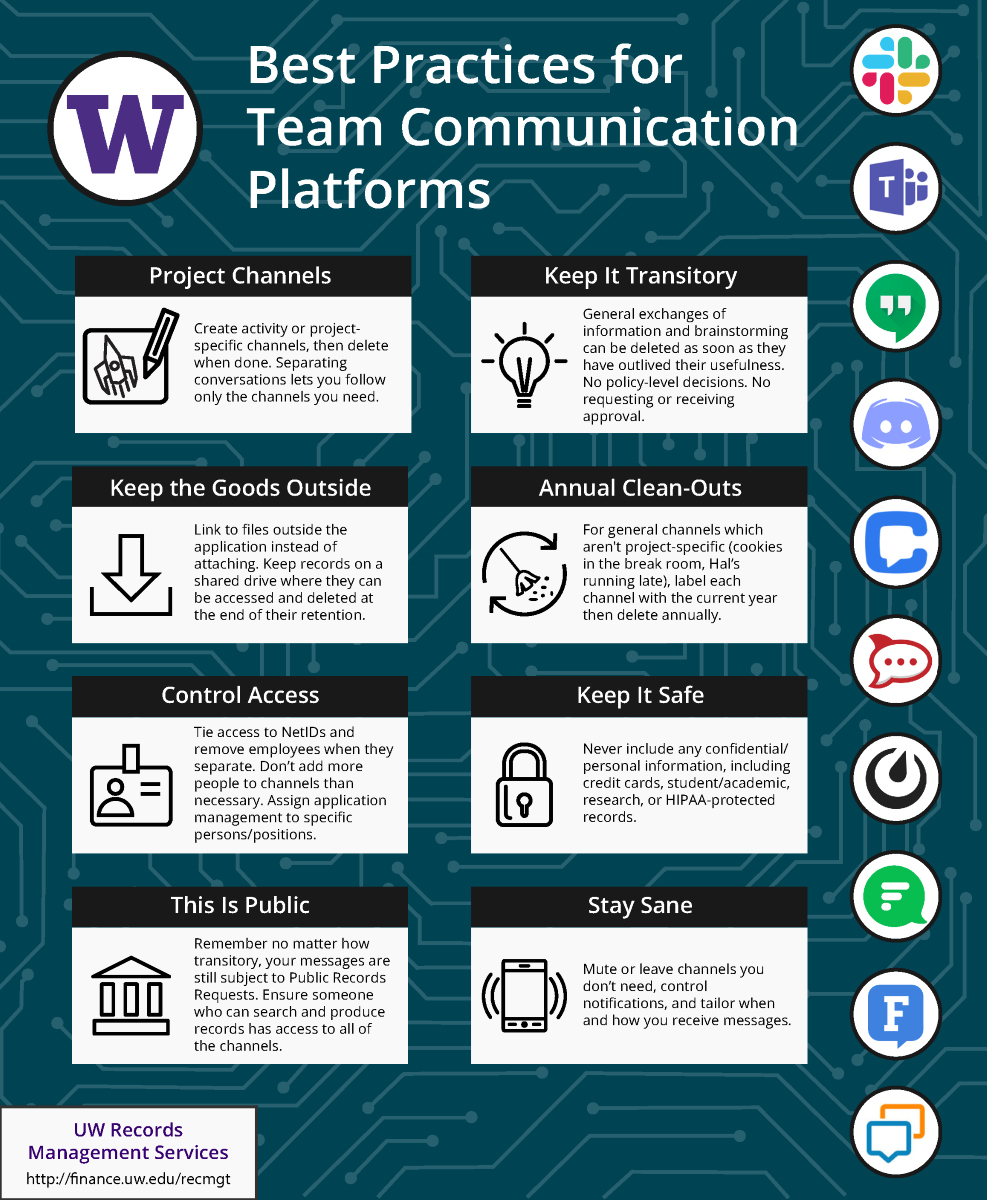 Many groups at UW are turning to Slack or Teams to cut down email traffic and stay connected. All posts and content are considered records, and it's your responsibility to manage them in accordance with legally-approved UW retention schedules. Check out our infographic that gives you the tools to manage content easily on an ongoing basis. Our staff is always available to answer any questions about managing electronic records at recmgt@uw.edu and 206-543-6190.
Top tips: create project-specific channels, include the year in the channel name, save substantive records outside the platform, and schedule periodic clean-outs. Try creating a "break-room-2020" channel dedicated solely to sharing the fun stuff like recipes, memes, and dog photos.
WE ARE ALWAYS HERE TO HELP
Barbara Benson
Cara Ball
Emily Lemieux
Michael Mooney
Lynn O'Shea