Join our Listserv!  Contact Us  The ROT Squad
Manage Email Using Rules and Quicksteps
Managing email with smart tools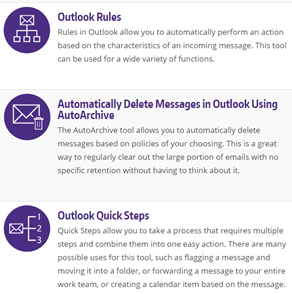 Working remotely has us depending more heavily than ever on email for communication with colleagues both in and outside our offices. Did you know tools like Conversation Clean Up can assist with quick clean-ups of email strings and duplicate messages? By setting up a Rule your email account can automatically perform an action based on a characteristic of an incoming message. (You could set a rule to make all emails from your supervisor turn green.) Quicksteps allow you to take a process that requires multiple steps and combine them into one easy action. There are many possible uses for this tool, such as setting your email to automatically flag a message and move it into a folder, or forwarding a message to your entire work team. Why not take the time to learn about some of the Outlook features that can help you more easily manage your email?
What Do I Do With All My Email?
Delete It, Do It, Delegate It, Defer It, File It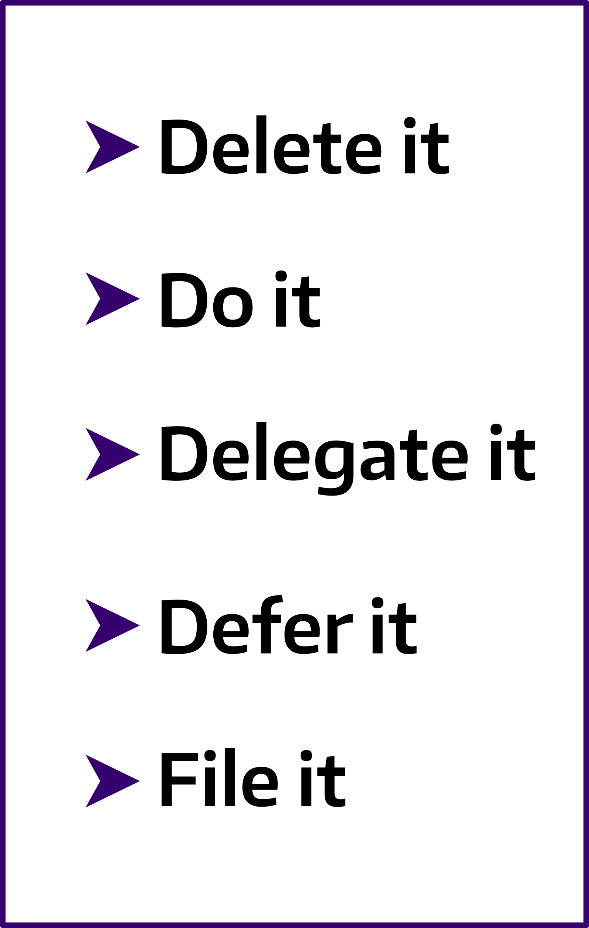 The easiest way to manage email is to touch it only once. When you open an email message, decide what you are going to do with it before you close it.
Delete It
Can the information be found elsewhere, such as on an internal/external website, collaborative web tool, or network drive? Is it a newsletter, acknowledgement, notification, or alert? Does the email request or provide routine information? All of these types of emails can be deleted as soon as you no longer need it for reference. For most UW employees, 70-80% of emails meet these criteria and do not need to be kept beyond reference purpose.
Do It
If you can respond or take specific action in two minutes or less – do it. File it in a folder, respond, make a call, etc.
Delegate It
Email messages requesting information or an action are not always directed to the appropriate person. After reading a message determine whether you need to respond to it, or whether it you should delegate it to someone who is better placed to respond to it.
Defer It
If a response or specific action will take more than two minutes of dedicated time – defer it. If you use Outlook, you have the ability to flag emails for follow-up, label them, and add them to your Tasks list. These tools can help you find them later so that you can determine whether action is still required. Learn more about how to use these Outlook tools
File It
Create folders that are logically aligned with the way your office conducts business such as projects, transactions, standing meetings, budgets, and employees.
WE ARE ALWAYS HERE TO HELP
Barbara Benson
Cara Ball
Emily Lemieux
Michael Mooney
Lynn O'Shea