Join our Listserv!  Contact Us  The ROT Squad
Zoom In, Zoom Out: Do It Right
Video Conferencing: Think Before You Record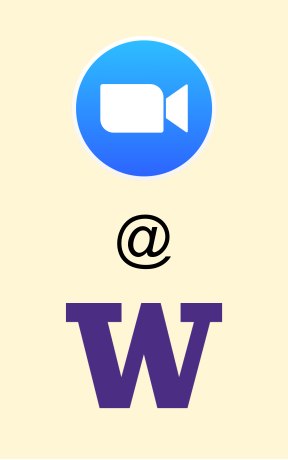 Video conferencing platforms like Zoom, GoToMeeting, and Skype have made it much easier for us all to work remotely and still foster a feeling of connection to our colleagues and students. However, we must be mindful of how we apply this new technology to our daily work. One of the concerns surrounding virtual meetings is the temptation to record the event. Below are some important issues and solutions to consider before you commit to hitting record:
When you record meetings, you are creating a record that may be released if requested under the Washington State Public Records Act or under Federal FOIA.
Like any other record, recorded meetings must be retained for the legally approved retention period, which, depending on content, can be as long as 6 years.
Content in video conferencing platforms is not easily accessible. This type of software does not provide good naming capabilities and can be very difficult to search. When faced with a need to retrieve information, this lack of searchability adds to the burden on departments and creates additional liability for the University.
Zoom and other video conferencing programs are not record repositories. While UW-IT provides these tools, they are not responsible for ensuring the legally approved retention period is met. It is your office's responsibility to ensure that any recordings are saved in another location where they can be found, opened, and viewed for their full retention period. If departments do not take active steps to preserve content, recordings age out of Zoom 1 year after they are created.
When recordings include students or members of the public, as much as possible, it is always a good practice to get consent from all of the participants or, at a minimum, put attendees on notice that the event is being recorded. See the Privacy Office's Best Practice for Online Conferencing for more information regarding consent and privacy.
As a result, please consider the following a list of best practices:
Consider whether you need to record the meeting and why. If you have not previously recorded similar meetings, don't record just because you can. Recording without a specific reason is not worth the extra liability and risk to the University and your office. This risk includes the possibility of public interpretation or misinterpretation of any verbal exchange at the meeting.
If you use the recording to create minutes that highlight decisions and conclusions from your meeting, the recording can be considered a draft and should be deleted once the minutes are completed and saved.
The University is liable for any recordings you create and the recordings themselves continue to be potentially releasable under the Washington State Public Records Act. If you must record, please A) save the resulting file to an enduring, shared location like your departmental network drive or OneDrive, and B) name the file with the title and date of the event/meeting so that the recording can be found if needed and identified for deletion once the appropriate retention period is up.
If you are recording student events like graduation or end of academic year celebration ceremonies, do what you can to obtain consent from all of the participants or to at least put them on notice that the event is being recorded. See the Privacy Office's Best Practice for Online Conferencing for more information regarding student consent and privacy. Also, be sure to contact University Archivist John Bolcer to discuss preserving the recordings as part of the permanent collections of the University Archives.
Please contact Records Management Services for more information given your particular situation.
WE ARE ALWAYS HERE TO HELP
Barbara Benson
Cara Ball
Emily Lemieux
Michael Mooney
Lynn O'Shea