Join our Listserv!  Contact Us  The ROT Squad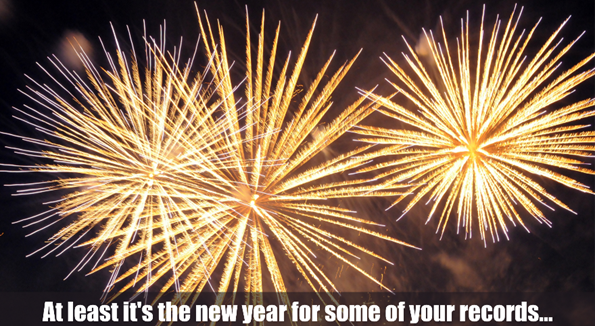 End of Fiscal Year
June 30th is the end of the fiscal year. This means any non-grant budget records (state, revenue, endowment, etc.) pre July 1, 2014 have met the end of their retention periods and can be destroyed. Records include packing slips, ProCard approvals, field advances, petty cash, invoices/receipts, and any supporting documentation for budget reconciliation can be deleted at this time. Take a look at the UW General Retention Schedule section on Financial Records (State and Non-Grant) for specific retentions.
Don't forget to look in your own email and departmental email accounts, shared drives, and anywhere else these records made be stored.
End of Academic Year
June 30th is also the end of the academic year. For student folders, the retention is 6 years after last contact or graduation. Records of any student who graduated June 30, 2014 and earlier can now be deleted or shredded. For Advisors files, the retention is 1 year after student last contact or graduation. Any emails, paper files, files in google docs or any other place files reside for students who graduated end of academic year 2019 or earlier can be deleted or shredded. Check out the UW General Retention Schedule section on Student and Curriculum Records for specific retentions.
The ROT Squad Bulletin
Welcome to the inaugural ROT Squad Bulletin! We'll be dropping in to provide quick tips and resources to help you conquer your ROT (Redundant, Obsolete, or Transitory records). A cleaner inbox, shared drive, and desk leads to a calmer, more focused mind. Schedule a free, remote ROT Squad consult today for yourself or your office. Have you finally found the time to tackle your inbox? Emily and Lynn will teach you strategies for ditching the ROT and preventing its return.
Today's Tip: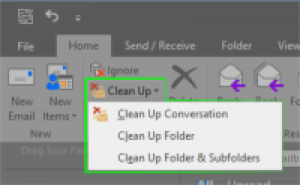 Of special interest to Advisors and others who have a lot of back-and-forth conversations, use Outlook's Conversation Cleanup tool for an instant email win! The Conversation Cleanup tool performs a one-click clean-out of duplicate messages. Check out our step-by-step guide.
WE ARE ALWAYS HERE TO HELP
Barbara Benson
Cara Ball
Emily Lemieux
Michael Mooney
Lynn O'Shea