Join our Listserv!  Contact Us  The ROT Squad
Case Study: Records Going Paperless
Walking the Walk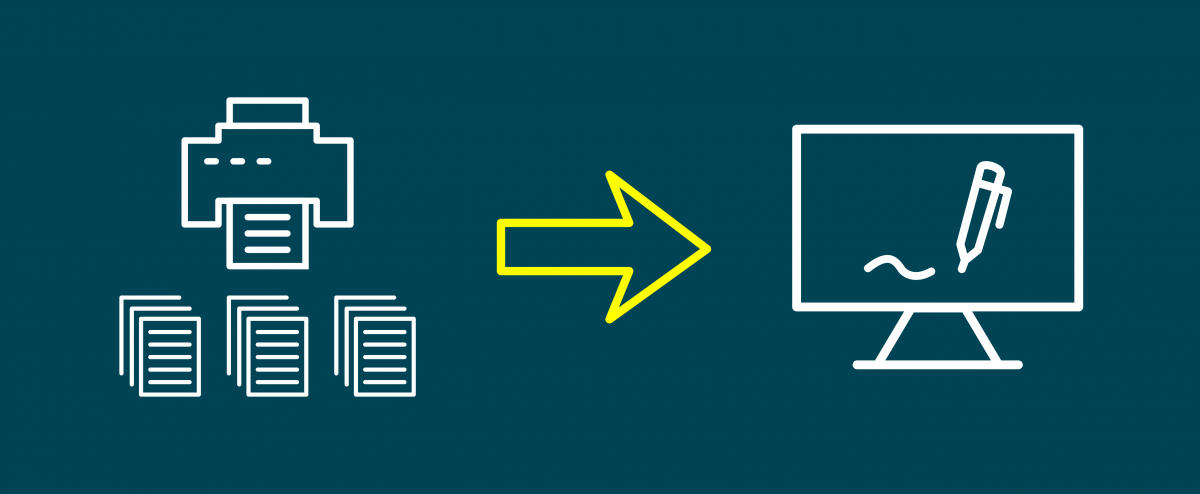 Like many of you, when our office moved to working remotely, we realized we could not continue to effectively maintain our paper-based processes. For example, we have a state-mandated approval process that requires signatures. Investigating existing resources at the UW, we found DocuSign was the perfect tool to help move us forward. However, developing this new process was more complex than just making the switch to e-signatures. As we went paperless, we discovered that the best way forward meant some careful analysis of our current state and expectations for our permanent future state.
Research process considerations:

We adopted pre-existing, free UW resources to ensure a clear, legally defensible approval process.
We examined the legal requirements (in our case, compliance audits with Washington state records statute). We knew our paper-based process aligned, but we needed to ensure that the digital process would as well.
We involved our stakeholders: the document creator, the document approver, and those who might need to access the document for reference or audit.
We identified the additional support we would need from our database vendor in order to create a new digital report.

Decide exactly how the new process will flow, when to start it, and how to maintain it:

We decided where to store the final electronic file(s) and how to organize them so that they're easy to find and delete at the end of the retention period.
We declared a cut-off date between the old process and the new.
We tested the new process and created mock versions to make sure it worked smoothly.
We recorded the new procedure and saved that procedure centrally where all users could find and access it.
Our Investment
The only cost we incurred was in staff time and focus. It took a handful of meetings involving key process owners and users, including our database vendor. We had previously adopted DocuSign, the University's preferred e-signature platform, which was the linchpin in taking this process paperless.
The Payout
So what's the value of going digital, besides saving a trip to the office?
It's faster to retrieve and review the information on the completed and in-process documents: you can simply search via your File Explorer, rather than digging through a file drawer in someone's office—or piles on their desk!
Re-examining the process in detail gave us an opportunity to actually improve the product and process itself, such as refining the fields on a given report and form.
All records involved in the process are now centrally accessible and retrievable, ensuring smoother business continuity during something as simple as an absence, as complex as an audit, or as stressful as a pandemic. We can all easily retrieve and share our records from any location, rather than asking someone to physically go into the office or wait for campus mail.
As these are vital records, it is a big win that they are now digital and backed up in multiple locations, saving us and the UW from large disaster recovery bills and effort should our building ever have an incident involving fire or water damage.
Do you want to learn more? We're happy to consult remotely and help you go digital. Contact us at recmgt@uw.edu or 206-543-0573. We're talking the talk, now let's walk the walk together.
BE BOUNDLESS...GO DIGITAL
WE ARE ALWAYS HERE TO HELP
Barbara Benson
Cara Ball
Emily Lemieux
Michael Mooney
Lynn O'Shea