Join our Listserv!  Contact Us  The ROT Squad
E-Records Misconceptions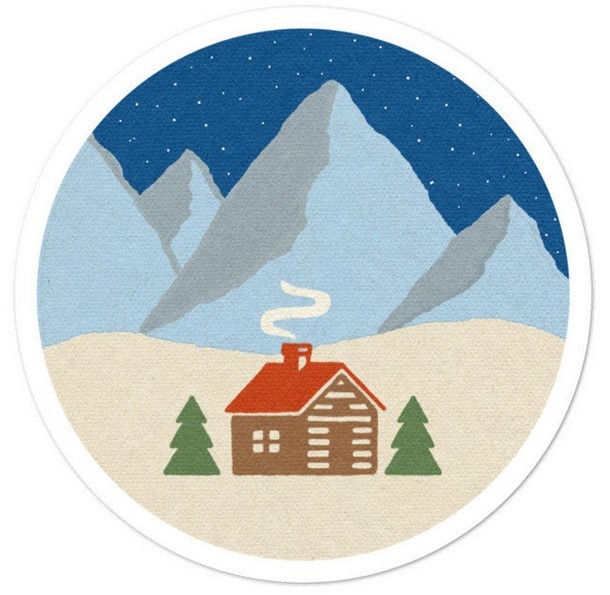 End the year strong by getting your e-records house in order before you settle in for a much deserved long winter's nap. To help get you started, here's some electronic records misconceptions we've heard lately.
"This working remotely situation is temporary so I don't have to worry about electronic records."
In March, when many offices started working remotely, many temporary solutions were quickly (perhaps too hastily) created to replicate life in the office. But now that we know that this situation will likely continue for several more months, take some time to think about your office's handling of records. Consider the following, with some links to our related resources:
Is that the best electronic storage location for those types of records?
Did you file them in a thoughtful way that considers the records' function and retention?
Do you have a filing system that works for the whole office? Would it still work if one individual had to leave without much notice?
Were there ways about the workflow in the office that made certain processes easier? For example, did a colleague like to check off a list in a certain way or track work status using paper files? Consider using a project tracking software like Miro, Trello or Kerika. Or perhaps the colleague is making reference copies of records to make tracking easier. If so, make sure these records get deleted once the administrative task has been completed.
Does your new electronic workflow have advantages over your pre-COVID process? Why go back to the old workflow after our return to campus?
"If I save something on a home device I don't have to keep track of it, do I?"
As long as you are doing University work, if you are creating records even on your own devices, all the same rules apply. It is the content that matters not the format, even on cell phones, tablets, laptops, or your work computer, if you brought one home. The materials are still subject to public records requests, and need to be retained and accessible for their legally-approved retention period and destroyed after that time has passed.
"I'm using Zoom, Slack and Teams more and more lately, but I think UW-IT manages those?"
Unfortunately, even though the formats might be new to you, the old truth remains that each office, and each and every employee has the legal responsibility to demonstrate the proper care and management of their records. Check out Zoom best practices, and best practices on team communication platforms. Also, have a look at our new Slack channels resource detailed below.
For more e-records misconceptions, circle back to our previous newsletter.
New Resource: Example Slack Channels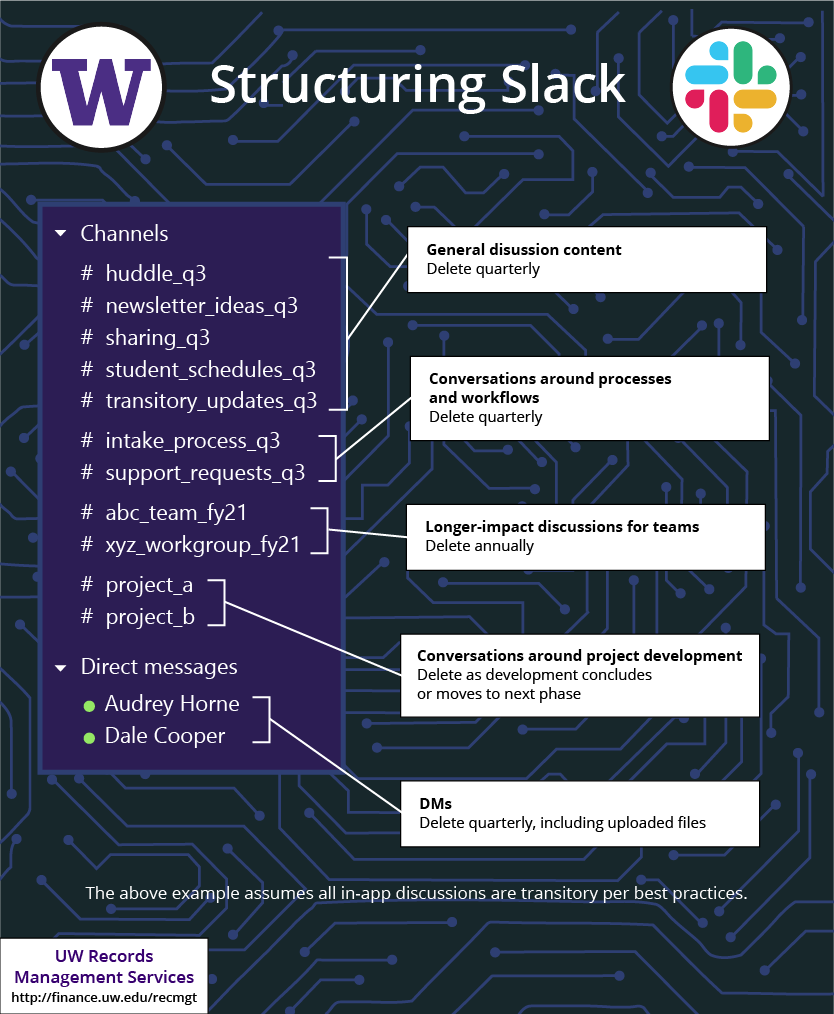 Many groups at UW are turning to Slack or Teams to stay connected and cut down on email traffic. All posts and files are considered records, and it's your responsibility to manage them in accordance with legally-approved UW retention schedules. Unfortunately, messages can quickly build up and become unmanageable. At Records Management Services, we provide resources to help you conquer these challenges.
Don't let crucial communications get lost in the noise. In addition to our best practices, we recently published a new example channel structure resource, intended to help you use your team communication platform efficiently and maintain compliance on an ongoing basis. Use this information to build sustainable channels and manage them appropriately.
Our staff is always available to answer any questions about managing electronic records at recmgt@uw.edu and 206-543-6190.
FETCH THE FUTURE...GO DIGITAL
Click here to watch the video on this new University-wide initiative.
WE ARE ALWAYS HERE TO HELP
Barbara Benson
Cara Ball
Emily Lemieux
Michael Mooney
Lynn O'Shea