Join our Listserv!  Contact Us  The ROT Squad
Preparing for Paperless Processes
What Else Can Go Digital?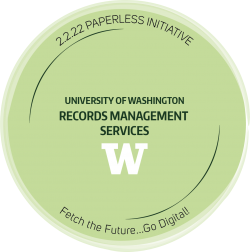 We've got one year to go toward our goal of Fetching the Future and going paperless by February 2022.  Check out our video here if you haven't already seen it.
We've enjoyed hosting recent focus groups where we have learned about roadblocks to eliminating paper, and we are spending much of our time brainstorming solutions based on your feedback and creating resources to clear the road ahead.  Offices have been telling us about the various processes they have transitioned from paper to electronic workflows. If you have looked around your desk and wondered what else you could modernize, then we have a new Tip Sheet for you. We've compiled a helpful list of types of records that can be switched to digital formats, accompanied by some points to keep in mind. Take a look and let us know if you have anything else to add to the list!
Help Us Define the Future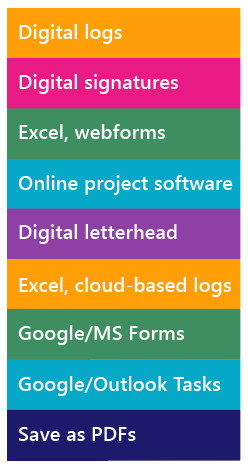 Our Tip Sheet should address some of your issues and provide a way to Rethink the Ink. But it's a long and winding road and we can't anticipate everything – we need to hear from you. To ensure we address your particular roadblocks, we want to do a quick mileage check.  We are very interested in learning which records you have already taken digital, and are even more interested in which records are still being maintained in paper. Please take a minute to fill out this short survey. [Survey has closed, but we'd still love to hear from you at recmgt@uw.edu] And, of course, please don't hesitate to contact us to discuss your specific barriers.
FETCH THE FUTURE...GO DIGITAL
Click here to watch the video on this new University-wide initiative.
WE ARE ALWAYS HERE TO HELP
Barbara Benson
Cara Ball
Emily Lemieux
Michael Mooney
Lynn O'Shea