Join our Listserv!  Contact Us  The ROT Squad
In One Year, It's a New Frontier
FtF: A New Acronym for 2021 and Beyond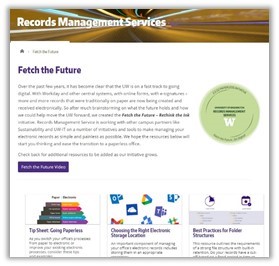 At this point you may have heard of our Fetch The Future—Rethink the Ink initiative from earlier newsletters, the January 2021 MRAM meeting, our video, or by noticing the tag line under our signatures in our emails. February marks the one year count-down to the date we gave ourselves to reach a paperless future and Retire the Ink.
We have been busy over the last year creating resources and tools to move this initiative forward. And we've even created a Hub on our website to make this material easier to find and adopt. Ranging from our Tip Sheet with real life examples of how to move to paperless processes and workflows, to Choosing the Right Electronic Storage Location and Best Practices for Folder Structures, we have you covered. Keep an eye on our Fetch the Future Hub (FtF) as we add additional resources over the next year.
Let's not forget that this initiative was created because at the UW, with Workday and other central systems, with online forms, with e-signatures – more and more records are being created and received electronically. And we all learned working remotely during the pandemic how an all-digital office is the only way to continue to be nimble, flexible, efficient, and effective—regardless of what the world throws at us. There is no going back to paper.
Our goals for this initiative:
Focus on identifying and helping to eliminate roadblocks to going electronic.
Create new resources and tools to help make it easier to manage electronic records.
Meet with everyone who has sent records to the UW Records Center for storage since 2017—to discuss how we can help them make the transition from paper to electronic records. Remember, the goal is for the University Records Center to stop accepting new records for storage in February 2022.
We will absolutely continue to manage the boxes we already have in storage, including retrievals and disposition. And we will do everything we can to work with offices still using the Records Center to make this transition as painless as possible.
For those of you who are still creating or receiving paper, we look forward to working with you to identify specific roadblocks that are keeping you from going fully digital. We hope our Fetch the Future Hub makes the road a little less bumpy. Working together, we can make this shift to managing records electronically.
FETCH THE FUTURE...GO DIGITAL
Click here to watch the video on this new University-wide initiative.
WE ARE ALWAYS HERE TO HELP
Barbara Benson
Cara Ball
Emily Lemieux
Michael Mooney
Lynn O'Shea