Join our Listserv!  Contact Us  The ROT Squad
So, You Want To Go Digital?
In the News: Text Messages
Many of us have read or heard about the controversy surrounding text messages and the City of Seattle. Text messages tend to be informal and brief, which makes it hard to take them seriously as records. This is not exactly breaking news. Based on Washington State statutes which have been in place since 1957, it's clear that anything in any format that has been made by, or received by, or used by any agency of the state of Washington in connection with the transaction of public business is a record and must be managed in compliance with records retention and destruction as well as public records freedom of information statutes. This includes information stored on personal devices.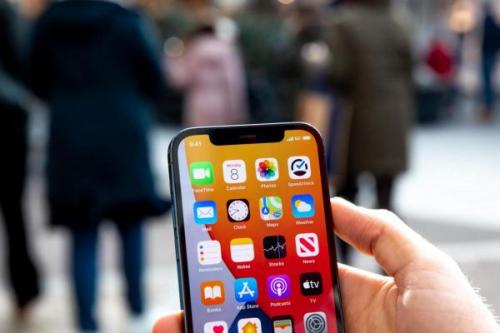 So how do we manage text messages?  Short answer—just like any other records. Management is not driven by format, it's driven by content. Legally-approved retention periods apply, legal destruction holds apply, and security and privacy concerns apply. See below for our FAQ on text messages. And as always, please don't hesitate to contact us directly for more information.
What is the retention for instant messages, texts and tweets?
Washington State defines a record as information regardless of physical form or characteristics. Chat/instant messages, tweets, texts and any other forms of written communication are subject to retention requirements and to public records requests. Because it is so difficult to capture these communications, we strongly advise not using them for approvals or to provide customized or unique advice to a student or employee. Those messages are best relayed through email.
Like email, the content of the message determines the retention. Generally, most if not all of these messages can be considered transitory and will fall under the listing for email you can delete in the UW Email Best Practices.
If approvals or unique advice is communicated to a student or employee via instant message, text, or a tweet, we advise that the conversation be saved to a more robust records repository (such as a network shared drive or an official UW email account) and be retained based on its retention on the UW Records Retention Schedule. Contact us at recmgt@uw.edu or 206-543-0573 for help identifying a specific record series.
New Online Training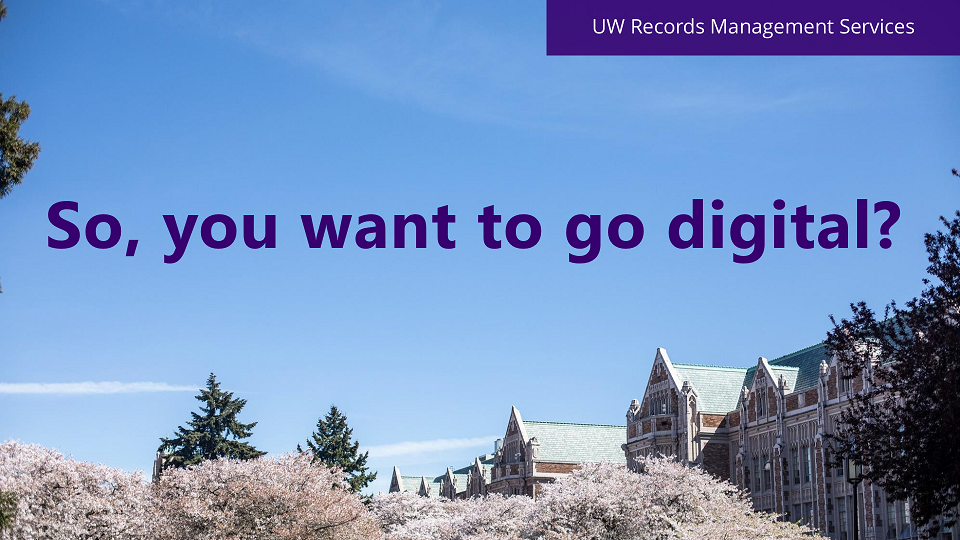 We are proud to announce the newest addition to our online training catalogue, "So, You Want To Go Digital?" Available on our website, this 7-minute video walks you through the resources available to everyone at UW as we move to fully digital offices. Informed by focus group research with our clients—you!—this training explains the why and the how to take your paper-based processes into the 21st century. Identify your roadblocks and learn about solutions actively in use around the University.
Records Management launched the initiative Fetch the Future – Rethink the Ink in 2020. The initiative came about because it has become clear that the UW as a whole is on the fast track to going digital. With Workday and other central systems, with online forms, with e-signatures – more and more records that were traditionally on paper are now being created and received electronically. So, You Want To Go Digital? helps you make sound choices when implementing electronic workflows, and introduces tools you can use to replace paper with properly-managed electronic records.
What is your office focusing on as part of this initiative? After watching the video and discussing it with your coworkers, contact us with additional questions and discussion as needed. Together, we can fetch the future!
FETCH THE FUTURE...GO DIGITAL
Click here to watch the video on this new University-wide initiative.
WE ARE ALWAYS HERE TO HELP
Barbara Benson
Cara Ball
Emily Lemieux
Michael Mooney
Lynn O'Shea