The AutoArchive tool allows you to automatically delete messages based on policies of your choosing. This is a great way to regularly clear out the large portion of emails with no specific retention without having to think about it.
Records Management Suggests:
ONLY automatically deleting emails that have a transitory value (such as spam, drafts, newsletters, auto-notifications, announcements, routine correspondence, etc.).
For other items, it is advisable to review before deleting in the event that any items need to be retained due to audit, public records or litigation holds. Refer here for more guidance on which emails must be retained.
---
Select folder to delete from
Right click the folder you would like to delete from and select Properties.
---
Choose your settings
In the Properties dialog box, go to the AutoArchive tab and select your desired settings.
Records Management does NOT advise using the option to move old items to a default archive folder. Hiding and forgetting about emails does not elimnate your responsibility for them. If an email must be retained, keep it in a folder in Outlook for easier access. If it doesn't need to be retained, just go ahead and delete.
---
Adjust global settings for frequency
Select the File tab at the top of the screen and then Options
---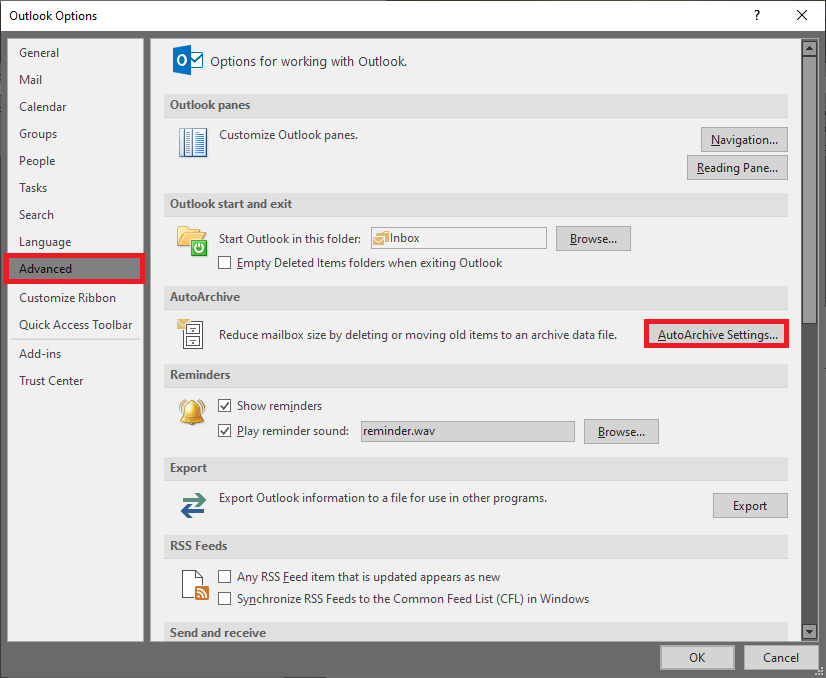 Select Advanced on the lefthand menu and then click on AutoArchive Settings
---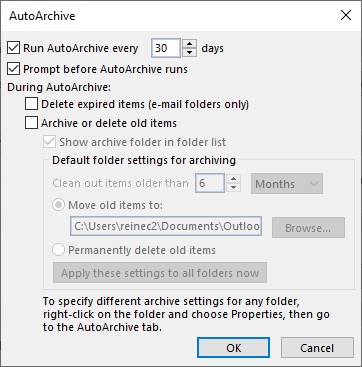 Choose how often you want to run AutoArchive, and whether you want to be prompted before it runs. Records Management suggests permanently deleting Deleted Items, Spam and other transitory mail at least once a month. There is a low risk in deleting these types of items, but if you would prefer to do a quick review before deleting you may select the option to be prompted.
Leave all the other options deselected -- these should only be set on a folder by folder basis.