The retention period for calendars is 1 year after the end of the calendar year.
This can be a difficult retention to implement unless you are very familiar with how your email client works. One department at the UW who uses Outlook took the time to research how to delete old calendar items. They generously shared the steps in the process.
1.  In the Calendar section of Outlook, click View on the toolbar. Click Change View and choose List.

2. Click "View Settings" (next to "Change View" on tool bar)

3. Click on Group By and a new pop-up window will appear. Choose Group Items by (none) and locate Then By to make sure it is set to none. Then click OK.
This is to eliminate groups so all items can be sorted in date order at one time.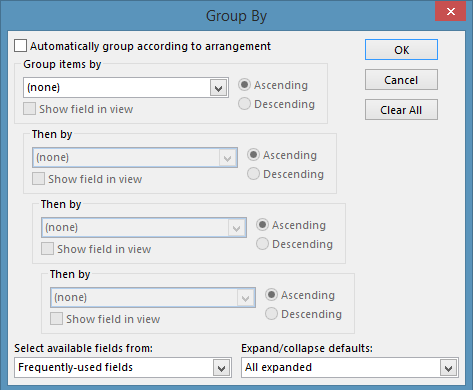 4.  Click on Sort and sort items by End; click OK and then OK again.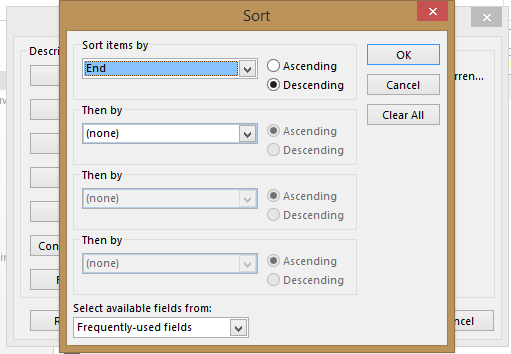 5. Click on the first item to delete and holding down the shift key click on the last item you want to delete.  This will highlight all the items to be deleted. Press the Delete key on your keyboard.

6. To return to your "normal" calendar look: go up to the tool bar and on the far left click Change View. Then click on Calendar.  All the calendar items deleted in the above process will end up in your Deleted Items email folder.

7. Purge your Deleted Items email folder by moving from Calendar back to Mail. Click on Deleted Items Folder on the top left side of the page.
8. In the toolbar, click on View. Click on the arrows on the side of the box to show the different ways you can search your email.  You can click on Type to find all the calendar items you marked for deletion. Highlight all of the deleted items that have a calendar icon next to them. Press Delete on your keyboard to finish the task.