You may need to save an unaltered copy of a webpage for a variety of reasons. Two of the most common reasons are:
Retention: You must retain webpages when you're revising, adding, or removing substantive information like policies or procedures, requirements, deadlines, program or course descriptions. Other sites that contain research data should be kept for 6 years after the end of the research study under which the data was created.
Destruction holds: All records pertaining to ongoing or pending audits, lawsuits (or even reasonably anticipated lawsuits), litigation holds or public disclosure proceedings must be preserved until the issue is resolved. You will work with the following offices to decide which webpages you will need to retain: Attorney General's Office, Office of Public Records & Open Public Meetings, or Internal Audit. For best practices and guidance on how to handle destruction holds, please see our Destruction Holds Resource.
Step 1: Save the webpage

Before you save the webpage, carefully choose where to save your files. The location should always:
be backed-up regularly,
allow access for those who need it,
be named clearly. 
When you're saving webpages for destruction hold:
include a copy of the hold notice or request.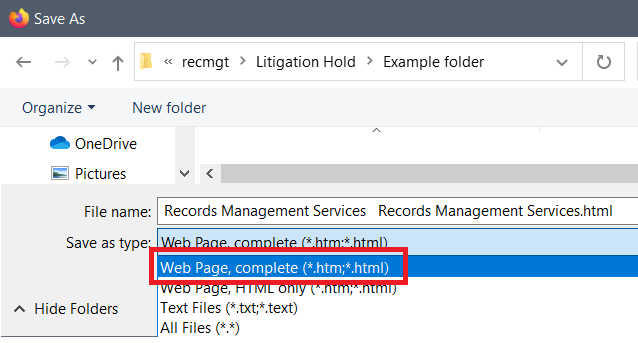 Using any browser, Control + S when you are on the webpage that you want to save. An options box will appear asking you what you want to name the file and where you will save it.
Choose Web Page, complete. This option saves the images and some embedded technical files into a separate folder.

The webpage will be saved as a html file and a folder of related files. Test the page by double-clicking the html file to open it in a browser.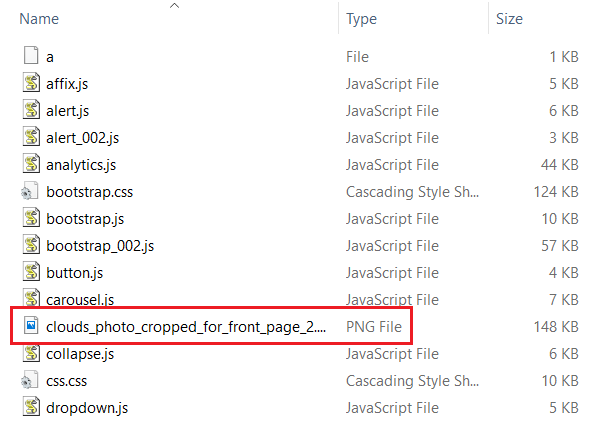 Inside the folder, you will find copies of images used on the webpage.
Step 2: Save videos and linked files, if applicable
You also need to save a copy of any files and videos linked on or embedded in your webpage. For videos, you may be able to simply right-click on the video to save a copy. However, you may need to use a more complex approach if it is a video that you do not host. If your page contains a large number of linked or embedded files, you can use a free browser extension to download multiple files at once.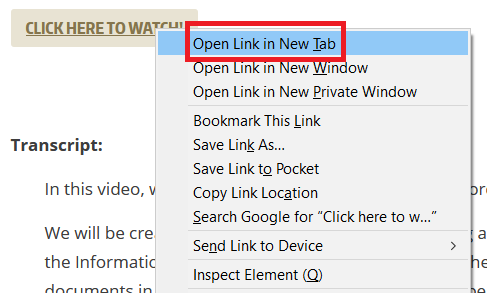 Right-click on the link to the video and open it in a new tab.

You can see whether the video is on UW servers by looking at the address bar.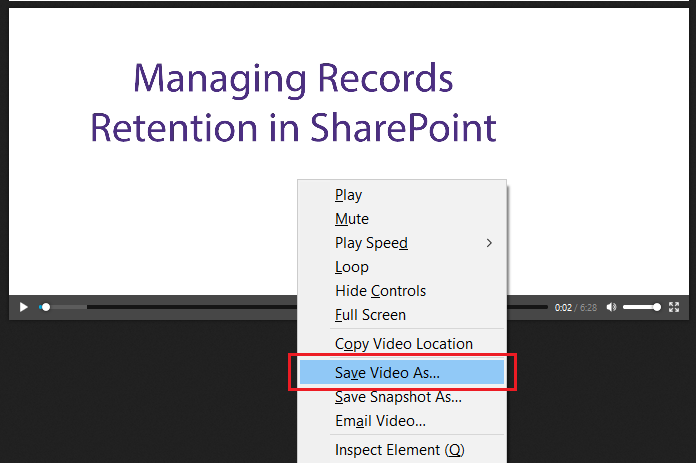 Right-click in the body of the video to save it to your holds folder with the other webpage components.
More Resources on Downloading Videos:
You will need to download the video from its original location. Here are some resources that include detailed instructions:
Our FAQs on webpage retention and destruction holds:
Resources on Managing Litigation Holds from the WA Attorney General's Office: