Basic Lodging Expense
County Search (when city is not listed for Domestic locations)
CONUS (contiguous United States and District of Columbia) Standard Rates
Foreign and Non-Contiguous Locations
Actual lodging expenses are compared to the allowable lodging per diem rates and are based on dates and locations entered in the Expense Report (ER). See lodging Guidelines and Policies.
Basic Lodging Expense
select Lodging Per Diem from Add Item box
select appropriate Travel Destination
indicate Check In/Out Dates from the calendar or enter
enter actual Daily Rate and Taxes paid
click Select to find lodging per diem rate for the location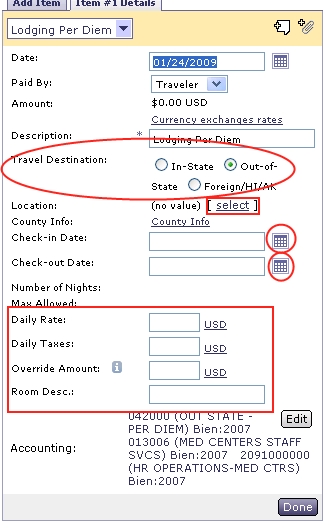 select a search criteria option from Field pull down menu; search defaults to City
select appropriate Effective/Expiration Dates and Season Start/End
example below shows appropriate Effective/Expiration Dates and Season Start/End period for travel to San Francisco during October 25 through November 5, 2008

if travel dates expand to two different Season Start/End periods, claim each period as a separate item
if different rate each night use a seperate line item for each rate

Actual daily rate plus taxes are automatically calculated by the number of nights. If actual daily rate is over the allowable maximum lodging per diem rate, a justification is required.
TIP: If actual lodging expense is over the 150% allowance, the only two appropriate justifications are Conference Hotel and Non-UW traveler.
Click Edit to enter appropriate budget(s) for this expense or click Done to continue entering other items.
Optional:

budget(s) may be entered as Mass Edit after all items have been input
enter an Override Amount to claim less than actual expense