Travel can be booked however you deem fit, through a travel agency, directly with an airline, or an online agency of your choice. Effective 06/07/12 Airfare no longer must be purchased through a contract travel agency or directly with the airline. The contract is available for use as a convenience:
provide "YCAWA" as fare basis code during purchase
may only use a UW individual travel card or CTA to purchase contract airfare
can not purchase contract airfare using personal credit card
listed by "city pair" and specific contract airline for one-way flight to either direction
domestic fares includes all applicable federal, state and local taxes; does not include passenger facility charges, segment fees and September 11th security fee
*Note: Can only book contract fare by calling Alaska Airlines directly or by using a contracted travel agent. 
Airfare can be purchased using CTA (Central Travel Account), UW Individual Travel Card, personal credit/debit card, or cash. Note that restrictions do a apply when using the CTA. All payment methods besides the CTA are reimbursed through the eTravel module.
CTA and UW Individual Travel accounts/compliance are managed by Corporate Travel Services. See Travel Purchasing for the policy. CTS contact: uwcts@uw.edu - 206.543.5252.
Must be the lowest logical cost, and observe/exclude any fees due to personal preference or convenience not necessary/critical to UW business. Additional fees resulting from discount fares may be considered when determining most economical (fees for carry-on, checked bags, etc).
No choice

Cheaper airfare

No timely flights

No seats

No contract fare

Non UW
See State Ethics Board Advisory Opinion 03-03.
Airfare expenses procured with any rewards program, such as mileage, my wallet, or credits, are not reimbursable.
See RCW 42.52.160.
Requires justification and prior written approval from a Vice President, Vice Provost, or Dean (Director or Chancellor for Bothell and Tacoma campus) authority cannot be delegated. Approval must acknowledge the justification. Attach to expense report (ER) in ARIBA. Do not send to Travel Office.
Restricted under federally sponsored awards; See PAFC webpage for more information
a single annual approval updated yearly is acceptable for frequent travel (must attach to ER each time).
letter/memo must list reason for approval and include signature

list specific business reason or medical

email is acceptable for one time approval
approval must be included with the reimbursement
extra/additional fees are not reimbursable
coach upgrades and seat fees require justification and approval from an administrator
Travel time is calculated as the one-way from origin (airport) to destination (airport) including flight time and layovers. Documentation must include an itinerary with documented flight time. Do not include travel time to the airport or home from the airport. 
Business class fare OR a foreign layover directly en route or at the final destination for brief rest period (not to exceed 24 hours) may be authorized, provided ALL the following conditions have been met: 
Business class upgrade is NOT ALLOWED ON FEDERALLY SPONSORED AWARDS. The layover option (brief rest period) may be taken on a federally sponsored award. See the PAFC webpage for more information.
Have prior travel approval from an authorized person, can be on the out-of-state travel approval
Origin or destination is outside the continental United States
Used all UW frequent flyer miles (if available) to upgrade
Proof of payment and airfare itinerary is required regardless of cost.  Review receipt guidelines and if a package deal was purchased.  
The Fly America Act mandates the use of U.S. certificated air carriers for federally funded international travel.  Learn more.
Informative powerpoint presentation from GSA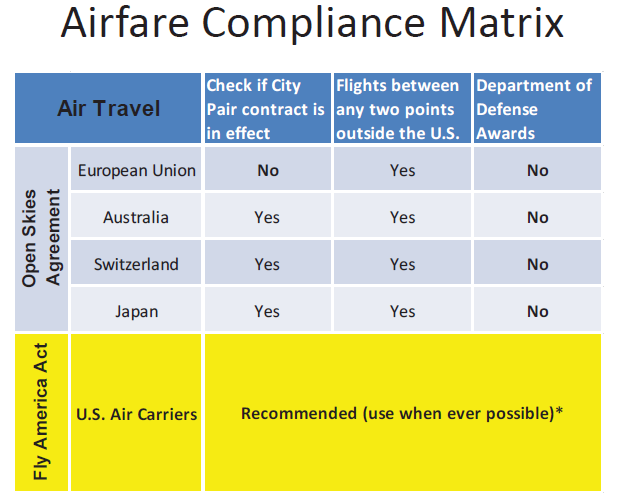 * For more information contact: Cheryl.McClain@gsa.gov or Rodney.Miller@gsa.gov.
For reimbursement eligibility, the receipt or itinerary must specify cost for each item (airfare amount, airfare tax, room rate per night, room tax per night, etc).
If separate cost components of a travel package can't be specified, it is not possible to substantiate the business expense and verify no personal benefit to the traveler. This is based on IRS requirements. 
If itemized receipts are obtainable and in compliance, reimburse expenses as usual on their appropriate line items
If receipts are not itemized and not compliant use the 'Package Deal' line item in Ariba and follow the built in tax instruction
For UW employees, email pr-tax@uw.edu with employee name, employee ID #, expense report #, payment description and package deal line item amount. Please attach proof to the expense report. 


The traveler (UW employee) will be taxed through payroll as income based the amount of the non-compliant package deal total:

Current withholding (subject to change): 

Federal Income Tax = 22%
Social Security Tax = 6.2%
Medicare Tax = 1.45%

For non-UW Individuals, due to tax reporting requirements, non-UW employees are to be paid honoraria through the P2I (payment to individual) process
**All resources should be exhausted to acquire compliant receipts. The package deal line item should be used as a last resort when those resources have been exhausted.