Contact vendors to make changes/cancellations and request refunds when applicable.
Reimbursement: 
Allowable if change/cancellation was due to:
UW business
Cancelled conference/meeting
Airline cancelled flight (replacement fare must be used for future UW business trip or surrendered to the department) 
Unexpected death of a family member
Traveler's own unexpected illness which kept them from taking the business trip or continuing the trip as planned and is not due to the traveler's own misconduct/negligence. 
The department has made the determination that if the travel were to take place, the health and safety of the traveler would be at risk (refer to department section in policy accountability). In Ariba, select UW business and provide information.
Note:  federal awards restrict airfare purchases to refundable tickets and thus, unused non-refundable airfare may not be charged to a federal award in any circumstances.  See the PAFC webpage for more information.
Traveler sample notice regarding refunds/credits/vouchers. 
*Enter change/cancellation fee related to airfare in the change fee box within the airfare line item in Ariba eTravel.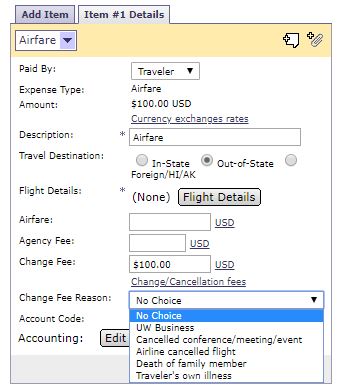 *Enter cancellation fee (or not recoverable) amount for lodging in the cancellation fee box within the lodging per diem line item.