Contact vendors to make changes/cancellations and request refunds when applicable.
Reimbursement: 
Allowable if change/cancellation was due to:
UW business
Cancelled conference/meeting
Airline cancelled flight (replacement fare must be used for future UW business trip or surrendered to the department) 
Unexpected death of a family member
Traveler's own unexpected illness which kept them from taking the business trip or continuing the trip as planned and is not due to the traveler's own misconduct/negligence. 
*Enter change/cancellation fee related to airfare in the change fee box within the airfare line item in Ariba eTravel.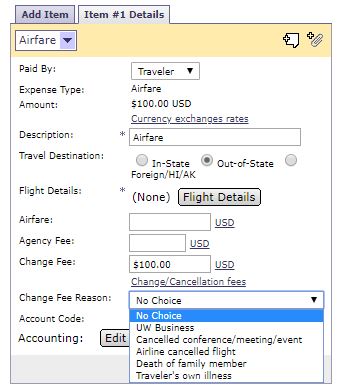 *Enter cancellation fee (or not recoverable) amount for lodging in the cancellation fee box within the lodging per diem line item.