***Note: Due to a technical issue during the transition to Workday, all orders will need to be manually received in Workday.***
The receiving functionality in Workday provides campus users with a mechanism to ensure that items and services on orders are received.
When you receive, you are approving an amount of money to be released for payment of invoices. Receipts and Invoices are two different distinct entities. This supports the accounting best practice of three-way matching for invoice reconciliation. 
In a three-way match, the Invoice is matched to the PO and to the Receipt of Goods/Services. ---->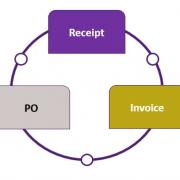 Who Receives?
Requisition Requesters within departmental units.
How Receiving Works
When you receive for an order, it is important to understand that you are not paying a specific invoice. Rather, you are approving an amount of money to be released for payment of invoices for that order. Receiving will be required for most order types.
In UW Connect Finance Portal find:
Job aid PRO-J-05 Requisitions for Requisition Requesters UWA
Security Role: Requisition Requester
Relevant Receiving Actions:
Create Receipt: for creating a receipt 
Find Receipts: finding a receipt, including drafts
Consider adding these in your Shortcuts tab in Workday.
Relevant Report: 
Invoice Match Exceptions R1166
Consider adding this report to your Shortcuts tab in Workday.
This report displays invoices "In Progress" that have exceptions which includes "Supplier Invoice Processed Without Receipt Created"
The report can be filtered by supplier, PO, or Cost Center. The data can also be exported into Excel to allow users to filter by Requester. 
When reviewing the invoices on the report, focus on important fields such as amount being charged and what line items are being charged.
Process Overview:
Notification: Based on your security role, you may receive a notification in Workday prompting you to receive.
If you do not, Run the R1166 Report in Workday:
Run the R1166 report in Workday
Review each invoice as charged by the supplier
If the invoice is incorrect or should not have been charged by the supplier, request to have the invoice rejected by AP. Send an email to pcshelp@uw.edu for this request. Do not receive for an invoice that should not be paid. Once the invoice shows canceled in Workday, you can proceed with any other receiving needed for other open invoices. 
Receiving must be in order of "invoice created" date. 
If the invoice is payable, you can either: 1) use the Create Receipt task or 2) click on the purchase order number in the report. On the next screen, he Related Actions (three dots) next to the PO number should provide an option for "Receipt" and then "Create." This will only be visible to users with the Requisition Requester role.  
Troubleshooting:
Once a receipt is submitted you will find "Related Actions" available on the receipt:
Create Adjustment (editing)
Cancel 
These will not prevent an invoice from paying if the invoice is already in "approving" status.
Your Responsibility
Inspect, verify and sign for satisfactory delivery of goods or services

Receive only the amount for the line items invoiced 

Do not include header charges such as tax, handling, etc.

Retain packing slips 

We encourage departments to scan and attach these documents to the receipt in at the time you receive in Workday. For more information on scanning and attaching, review the UW Scanning Requirements. 
Best Practices
Before receiving, you should:
Have a written receiving procedure in place for your department.
When receiving, you should:
Receive only the amount for the line items invoiced – do not include header charges such as tax, handling, etc.
Packing slips must be retained.